19 oz cubed

Watermelon

seedless

5 ½ tbsp

Granulated sugar

divided

½ cup canned

Coconut milk

well shaken

1 tbsp

Chocolate chips

mini
Watermelon Popsicles
These Watermelon Popsicles are more than just a watermelon popsicle. Created in individual layers, taking up a little bit of your afternoon in preparation time, start out by making the frozen watermelon layer with little chocolate chips inside. Freeze this layer before adding the coconut milk layer and then top with a delicious and tangy layer of frozen kiwi juice.
Your individual popsicles will have the perfect look, just like a watermelon, with pink, white and green layers! Fun and funky!
To make Watermelon Popsicles, you will need the following ingredients: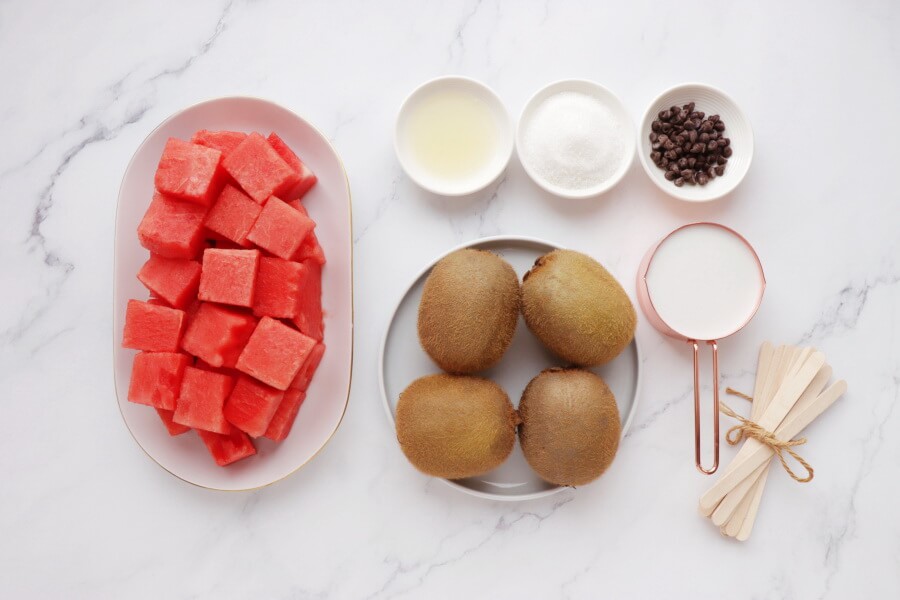 So, how to make Watermelon Popsicles?
Steps to make Watermelon Popsicles
Blend watermelon mix

1

Fill popsicle molds

5

Add chocolate chips

1

Close popsicles and freeze

3h 30m

Prepare milky layer

30

Add water

1

Add milky layer to popsicles

2

Second freeze period

45

Prepare kiwi mixture

2

Sieve through the kiwi mixture

1

Refrigerate kiwi mixture

30

Add kiwi mixture to popsicles

2

Third freeze period

3h

Serve