1½ lb

Heirloom tomatoes

sliced ¼" thick

2 cups

All-purpose flour

plus more for dusting

2¼ tsp

Kosher Salt

divided

¾ cup (1½ sticks)

Butter

chilled unsalted, cut into pieces

1 tbsp

Apple cider vinegar

2 cloves

Garlic

thinly sliced

4 oz

Cheese

firm vegetarian cheese (such as Asiago, cheddar, or Gouda), finely grated

1

Eggs

large, beaten to blend

Black pepper

freshly ground , to taste

1 tbsp

Chives

finely chopped
Tomato Galette
This Tomato Galette is better than any tart or pie you'll ever try. With a soft and tasty tomato and chives center filling wrapped in crispy and flaky, homemade pastry, it's absolutely divine.
Perfect for breakfast, brunch, lunch and dinner, no matter the occasion, this dish serves up perfectly every time. Enjoy it with a serving of sour cream or sweet chili sauce on the side! 
To make Tomato Galette, you will need the following ingredients: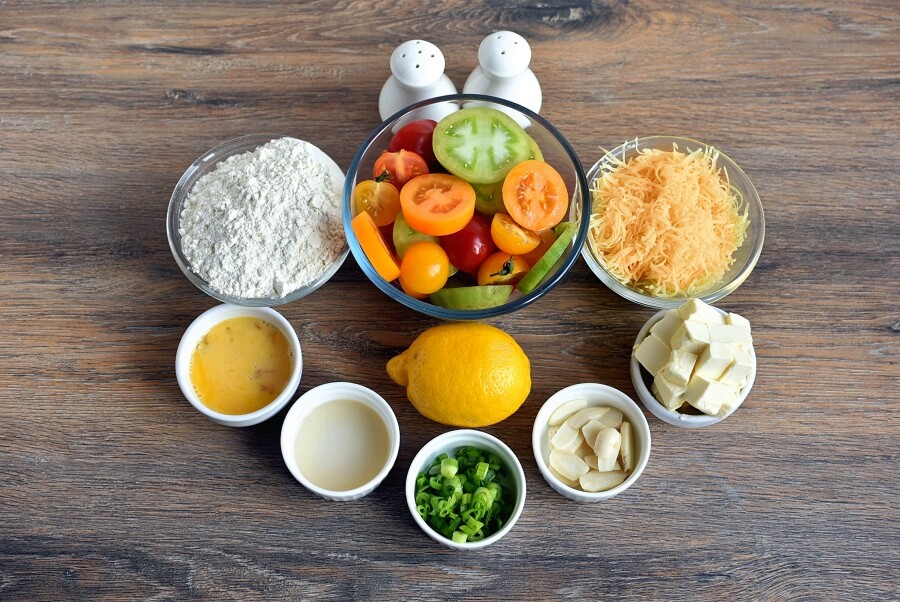 So, how to make Tomato Galette?
Steps to make Tomato Galette
Prepare pastry

1

Add butter

2

Add vinegar and ice water

1

Knead

2

Refrigerate

2h

Preheat oven

5

Season tomato mix

1

Drain tomatoes

2

Prepare dough to fill

1

Add cheese

1

Add tomatoes and garlic

2

Complete galette

2

Chill

10

Bake

55

Serve