TOP 10 Delicious Salmon Recipes
Salmon Makes the Perfect Meal: Easy to Prepare and Healthy.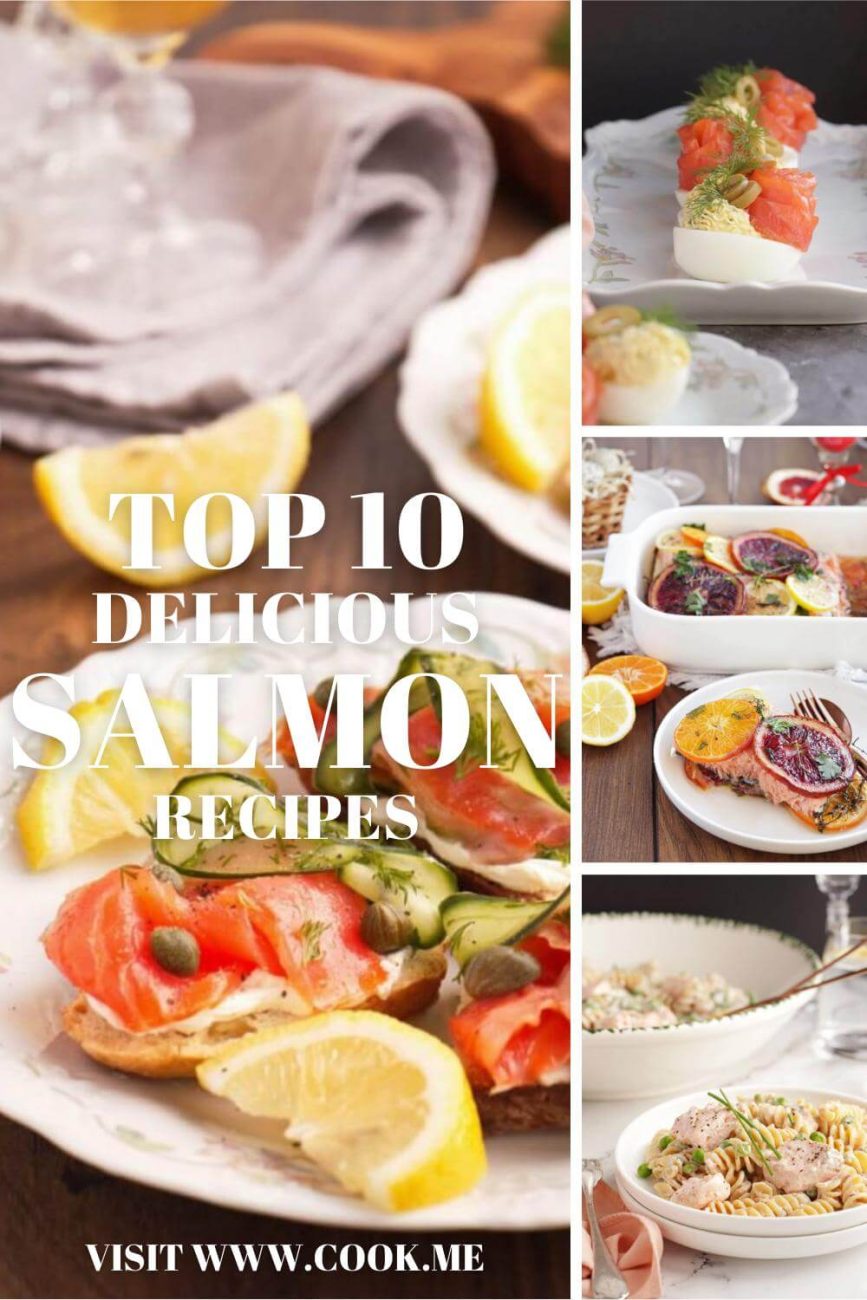 This Slow Roasted Citrus Salmon is not just for fancy dinner parties but ideal for family dinners too. Most children can be quite picky when it comes to fish and seafood and I believe this recipe breaks all misconceptions. Salmon fillets cooked in olive oil with lemons, blood oranges, tangerines,…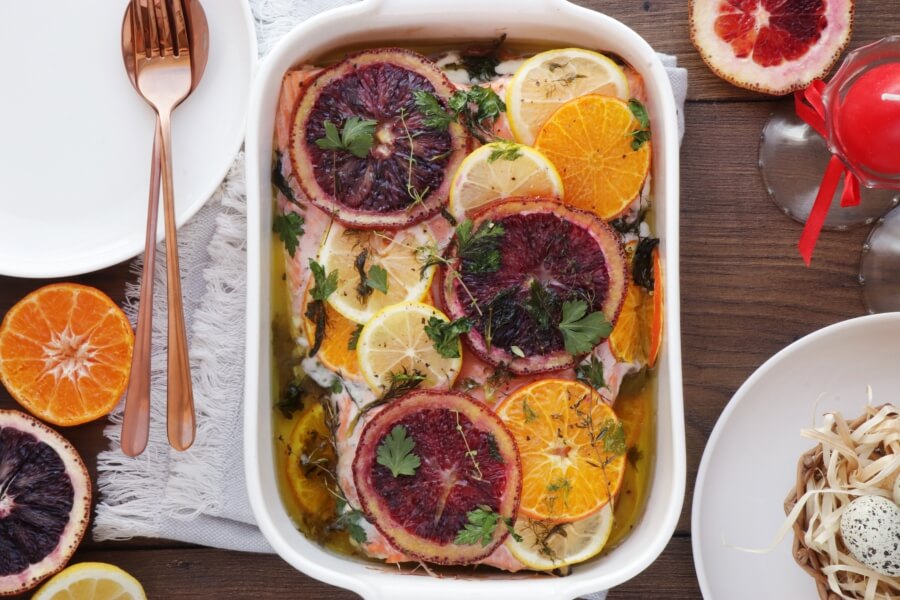 Ingredients for Slow Roasted Citrus Salmon:
1 (1½ pound) piece of Salmon
2 Lemon
1 Blood orange
1 Tangerines
4 sprigs Fresh thyme
¼ cup Parsley
¼ cup Fennel fronds
1 cup Olive oil
Salt
Black pepper
I love to make this Salmon, Strawberry & Fennel Salad for a healthy summer lunch! This is one of my working from home favorites as I can pull the whole dish together in only 5 minutes. I love the combination of oily smoked salmon, sweet strawberries and crunchy fennel bulb….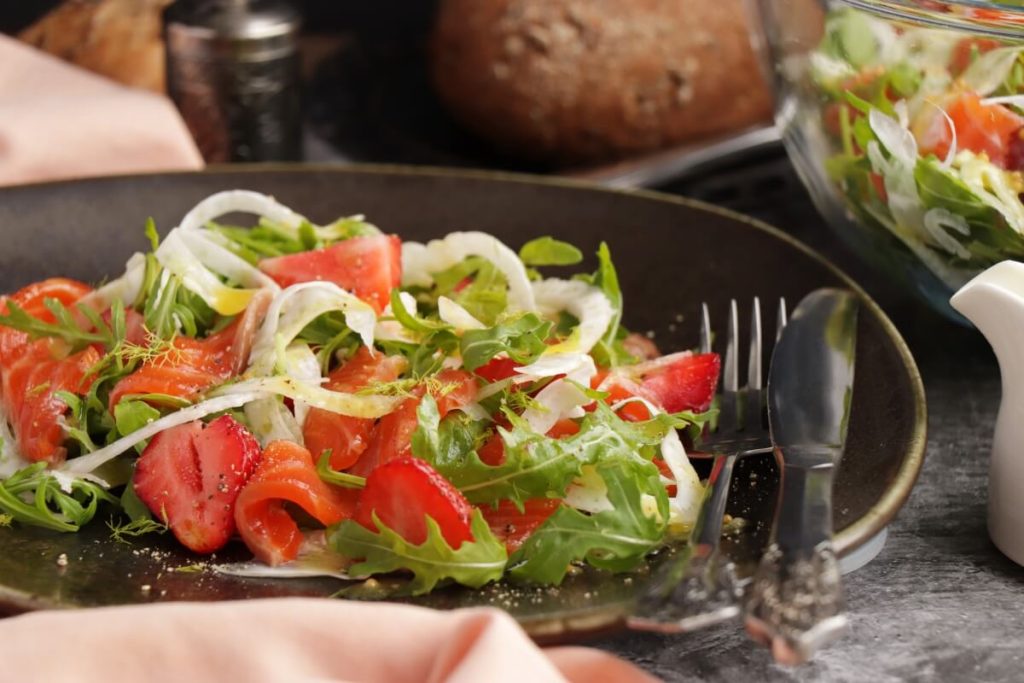 Ingredients for Salmon, Strawberry & Fennel Salad:
FOR THE SALAD:
200 g Smoked salmon
1 large Fennel bulb
50 g Arugula
200 g Strawberries

FOR THE DRESSING:
4 tbsp Olive oil
2 tbsp White wine vinegar
2 tsp Whole grain Dijon mustard
1 tsp Honey

TO SERVE:
Crusty Brown Rolls
Stop what you're doing right now. I'm about to share the recipe for The Best Salmon Deviled Eggs. These delicious appetizers will go down a treat at your next party. If you're not a fan of salmon, feel free to use something else like chicken fillet, ham, cheese, mushrooms, caviar…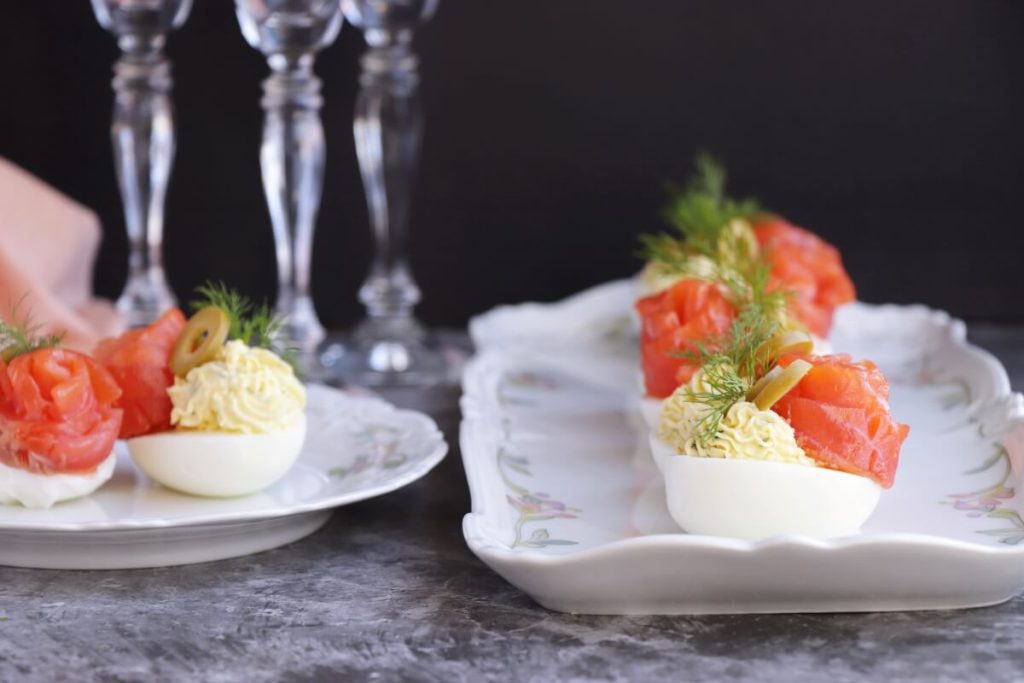 Ingredients for The Best Salmon Deviled Eggs:
200 g Salmon
4 Eggs
3-4 Olives
1-2 tbsp Yogurt
Dill
Salt
Black pepper
This Pasta with Salmon & Peas is the best midweek recipe I know. It takes just 5 minutes prep and it cooks in just 10-12 minutes. My kids adore it too, although I must admit that sometimes more peas end up on the floor than in their mouths! You won't…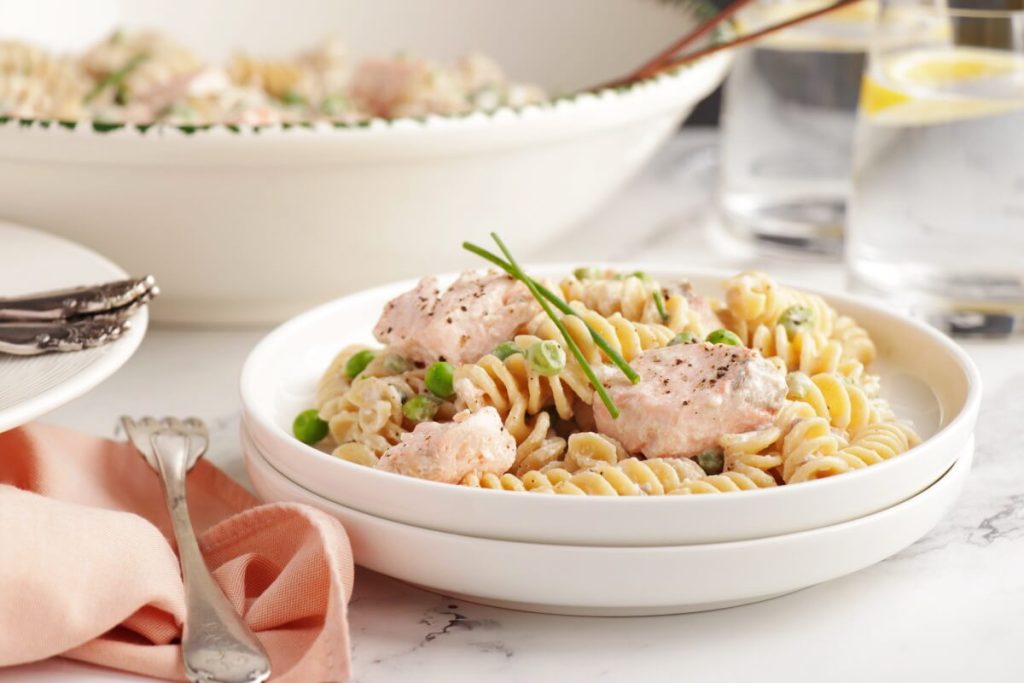 Ingredients for Pasta with Salmon & Peas:
240 g whole wheat Fusilli pasta
1 knob Butter
1 Shallots
140 g Frozen peas
2 fillets Salmon
140 g Crème fraîche
½ cube Vegetable stock
1 bunch Chives
50 ml Water
Black pepper
I love these Smoked Salmon Keto Mini Quiches. I regularly make a batch of them to have on standby when hunger pangs strike! These quiches taste amazing when served warm soon after cooking, or they keep really well stored in an air-tight container in the refrigerator too. They freeze well…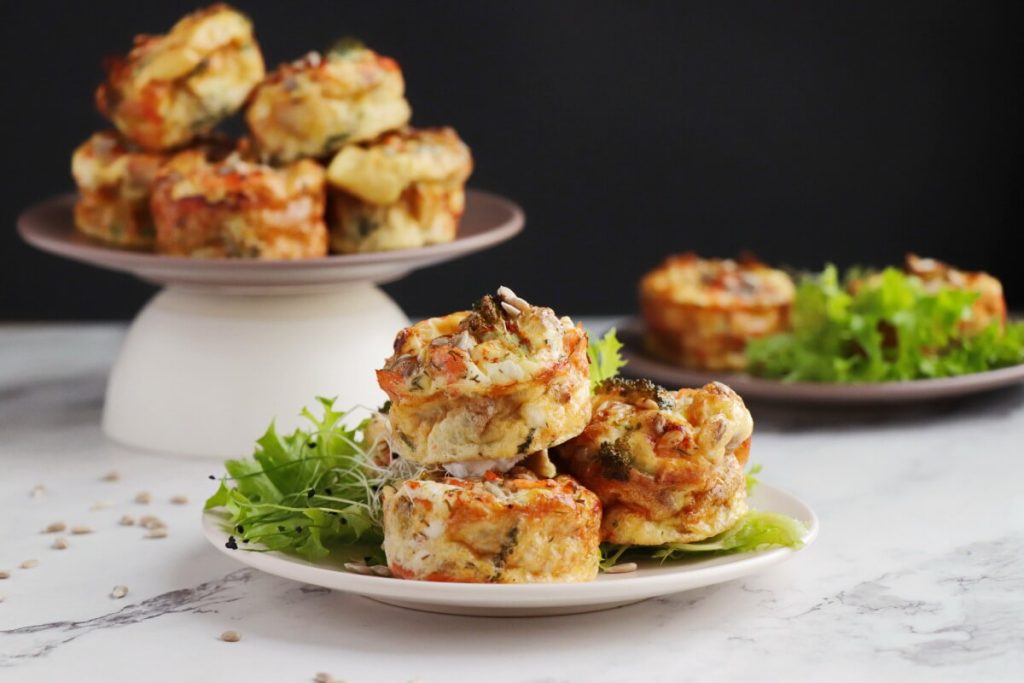 Ingredients for Smoked Salmon Keto Mini Quiches:
1 tsp Olive oil
2 oz Broccoli
2 tbsp Dill
5.3 oz fillet Hot Smoked salmon
½ cup Cheddar cheese
½ cup Feta cheese
2 tbsp Sunflower seeds
6 Large eggs
½ cup Almond milk
½ tsp Salt
¼ tsp Black pepper
1 pinch Smoked Paprika
If you haven't picked up yet, I love hosting parties and these Smoked Salmon, Cucumber, Capers and Soda Bread appetizers are one of my favorite canapés to serve. Elevated, finger food to circulate the room. Cut, small soda bread slices and top with cucumber ribbons, smoked salmon, a few capers..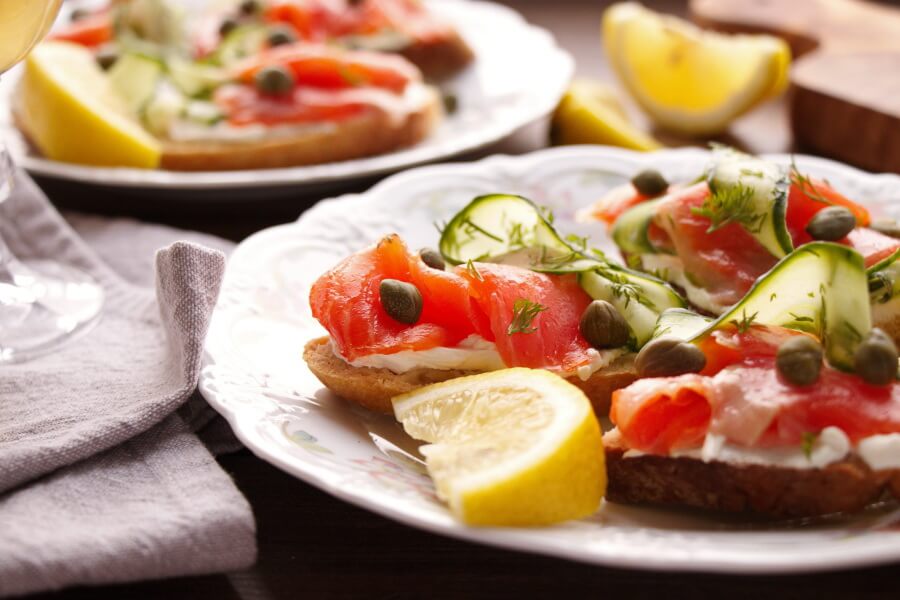 Ingredients for Smoked Salmon, Cucumber, Capers and Soda Bread:
1 Cucumber
1 pack Fresh dill
200 g pack Smoked salmon
1 jar Capers
1 Lemon
6 slices Soda bread
Cream Cheese
These Purple Cabbage Cups with Flaked Salmon & Avocado are the perfect lunchtime meal! Cooked salmon, simply seasoned with olive oil, some salt and pepper and baked in the oven for a few minutes then mixed with grapefruit, avocado slices, chopped cilantro, chives and finally pomegranate seeds, all served inside…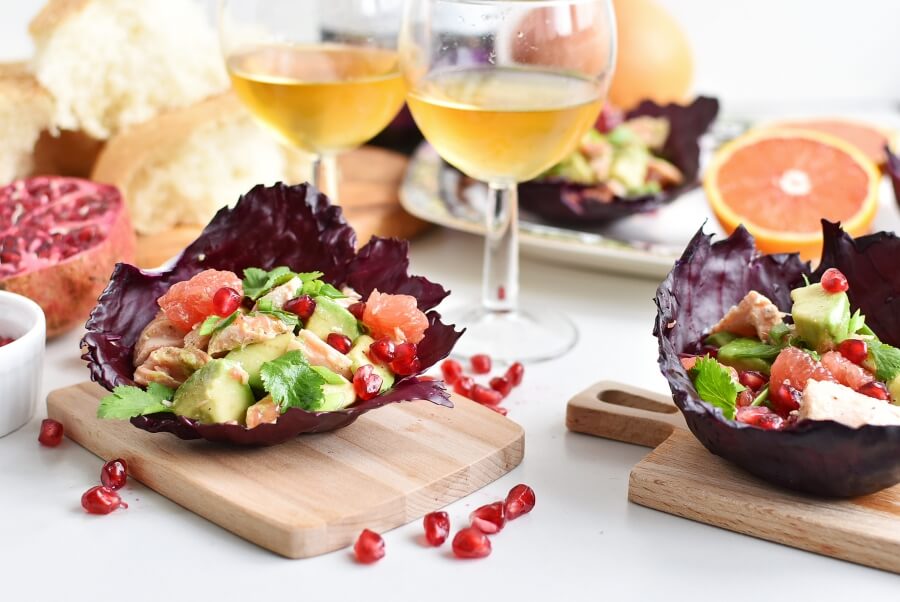 Ingredients for  Purple Cabbage Cups with Flaked Salmon & Avocado:
1 (4-5 oz) Salmon
2 Grapefruit
1 Avocado
1 small bunch Cilantro
2 tsp Olive oil
⅛ tsp Salt
2 tbsp Chives
from ½ Pomegranate seeds
4 leaves Red cabbage
Asian Salmon in Foil is my go to recipe when I am craving a healthy meal which is packed full of the flavors of my mother's home cooking. As the smell of soy sauce, rice vinegar and sesame oil fill my kitchen, I am transported to my mother's kitchen where…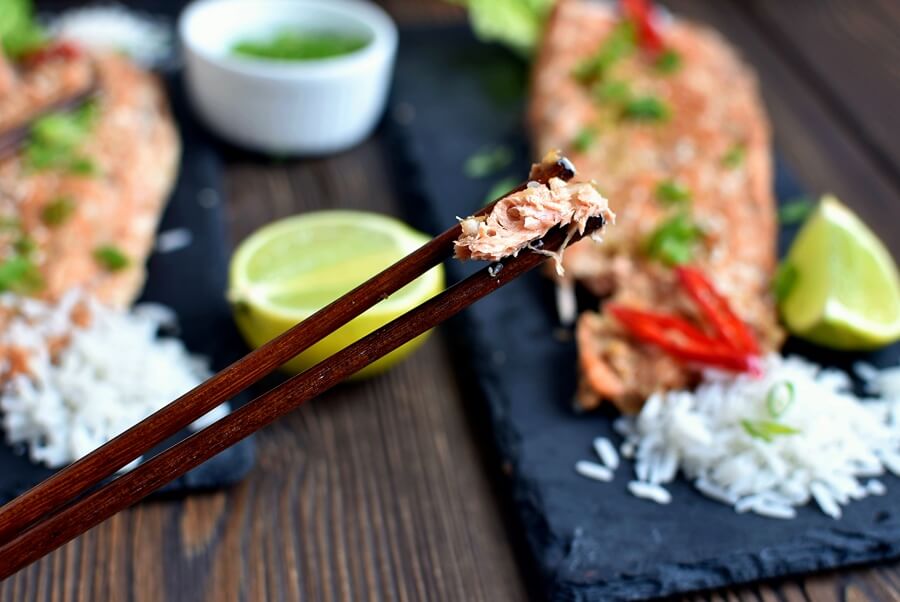 Ingredients for Asian Salmon in Foil:
¼ cup Honey
3 cloves Garlic
2 tbsp Soy sauce
1 tbsp Rice vinegar
1 tbsp Sesame oil
1 tbsp Fresh ginger
1 tsp Sriracha sauce
Black pepper
2 lb Salmon
2 Green onion
½ tsp Sesame seeds
This Gluten Free Salmon and Spinach Potato Bake is my take on a healthy fish pie. Usually fish pie is made with lots of cream and butter and topped with mashed potato which of course is absolutely delicious, but it also ends up with a high calorie count. This fish…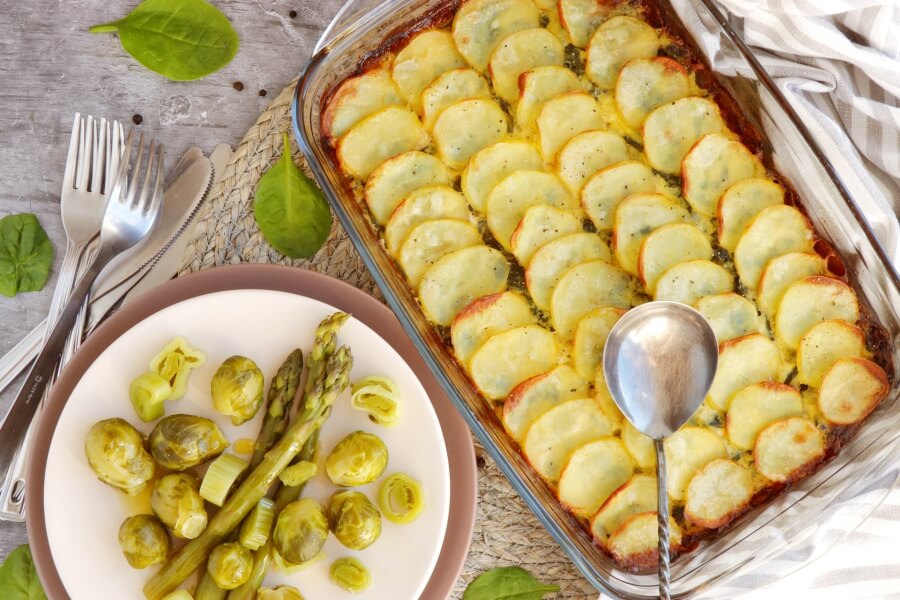 Ingredients for Gluten Free Salmon and Spinach Potato Bake:
1 lb Waxy potatoes
1 tbsp Olive oil
1 Onion
2 cups Spinach
2 tbsp Corn flour
1 cup Milk
Salt
Ground pepper
Cooking spray
4 fillets Salmon
This Creamy Salmon Pie is what dreams are made of on a cold winter's night! Serve it alongside a mustard sauce and some fresh vegetables, steamed and buttery. I think people tend to associate pies with meat than with fish, but I love the creamy, chunky filling of this salmon…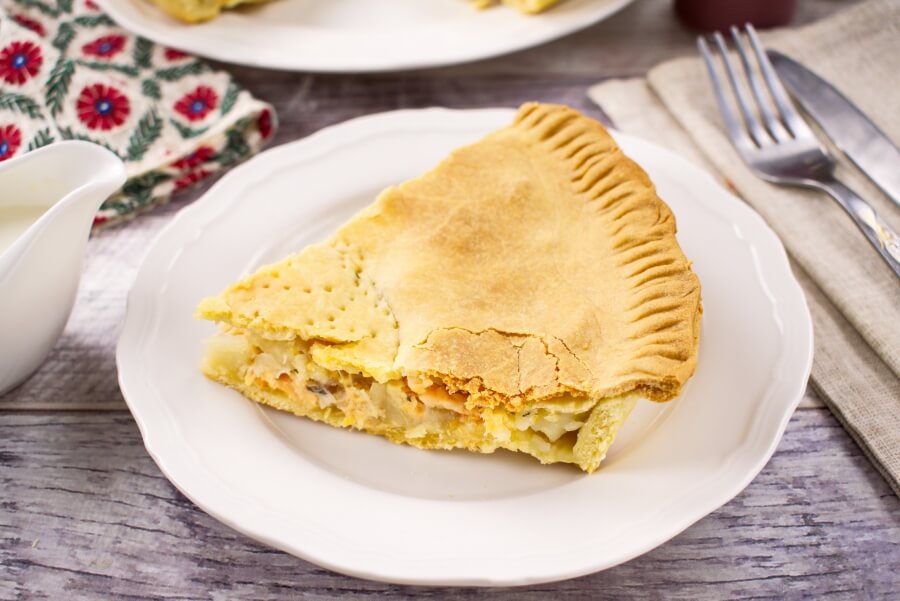 Ingredients for Creamy Salmon Pie:
2 Pie shells
6oz Canned red salmon
6 Potatoes
1 Onion
1 clove Garlic
1/2 cup Milk
1 tbsp Butter
1 tsp Dried thyme
to taste Salt
to taste Black pepper