1 lb

Waxy potatoes

peeled and sliced thinly

1

Onion

large, peeled and chopped

4 fillets

Salmon

skinless, cut into bite size chunks
Gluten Free Salmon and Spinach Potato Bake
This Gluten Free Salmon and Spinach Potato Bake is my take on a healthy fish pie.
Usually fish pie is made with lots of cream and butter and topped with mashed potato which of course is absolutely delicious, but it also ends up with a high calorie count. This fish pie substitutes cream with skimmed milk and butter with low cal cooking spray.
Salmon also happens to be one of the most nutritious foods on the planet. It's rich in protein, B vitamins and omega-3 fats which makes it a valuable 'brain food'. The human body cannot synthesise omega-3 fats, so they must be obtained from the diet and salmon is a great source. As well as all this health benefits, salmon tastes delicious when it's combined with spinach like in this recipe.
To make my Salmon and Spinach Potato Bake, you will need the following ingredients: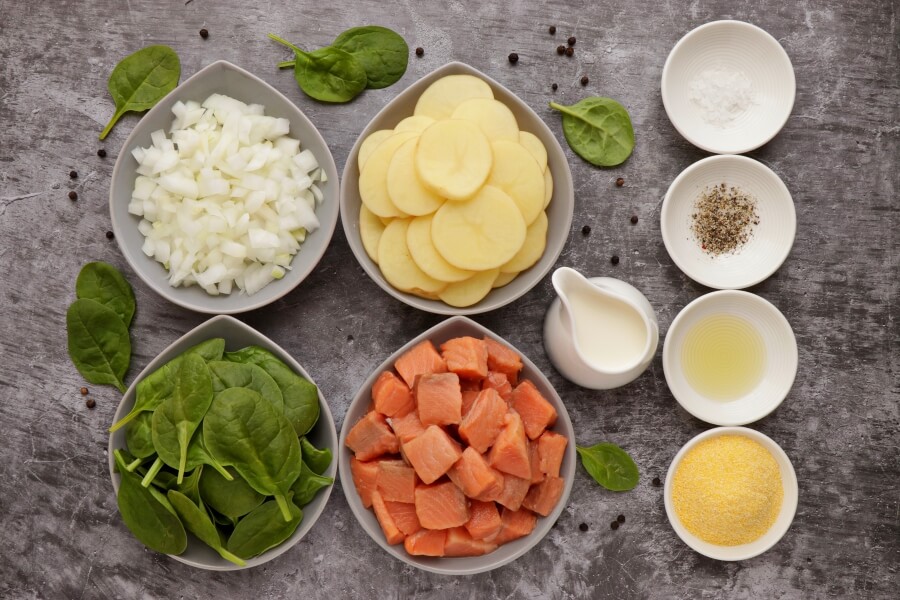 So, how do you make Salmon and Spinach Potato Bake?
Steps to make Gluten Free Salmon and Spinach Potato Bake
Heat the oven and prepare a dish

5

Cook the potatoes

5

Sauté onions

5

Wilt the spinach

2

Add the flour and milk

2

Place the salmon in the dish

2

Add the contents of the pan

2

Top with potato

2

Bake

45

Serve