TOP 10 Thanksgiving Bread Recipes
You'll Love These Thanksgiving Bread Recipes for Your Holiday Table!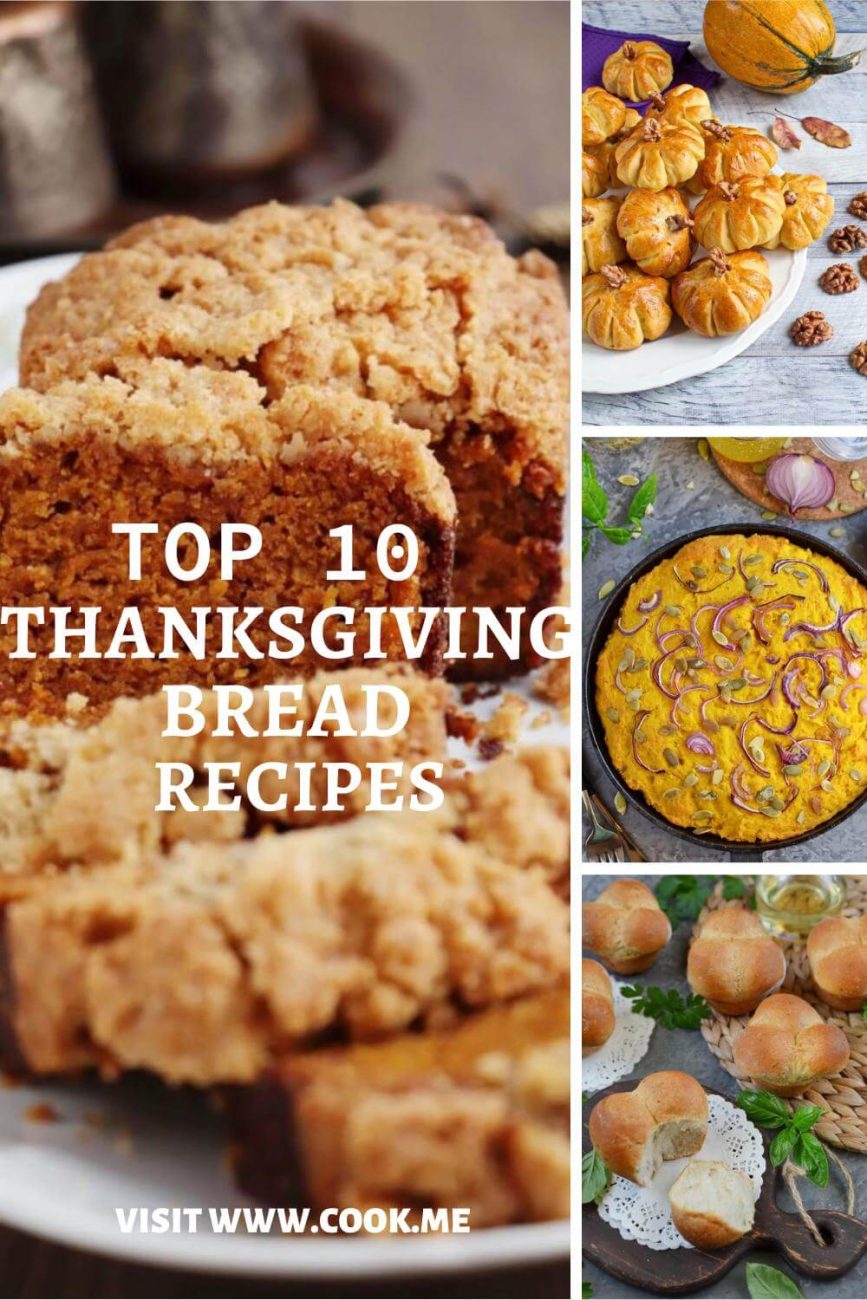 This Double Pumpkin Cornbread with Red Onion is a great take o    n the classic cornbread recipe. The secret ingredient in this cornbread is a can of pumpkin puree. The double pumpkin in the title comes from the addition of pumpkin seeds scattered on top of the bread. I start by…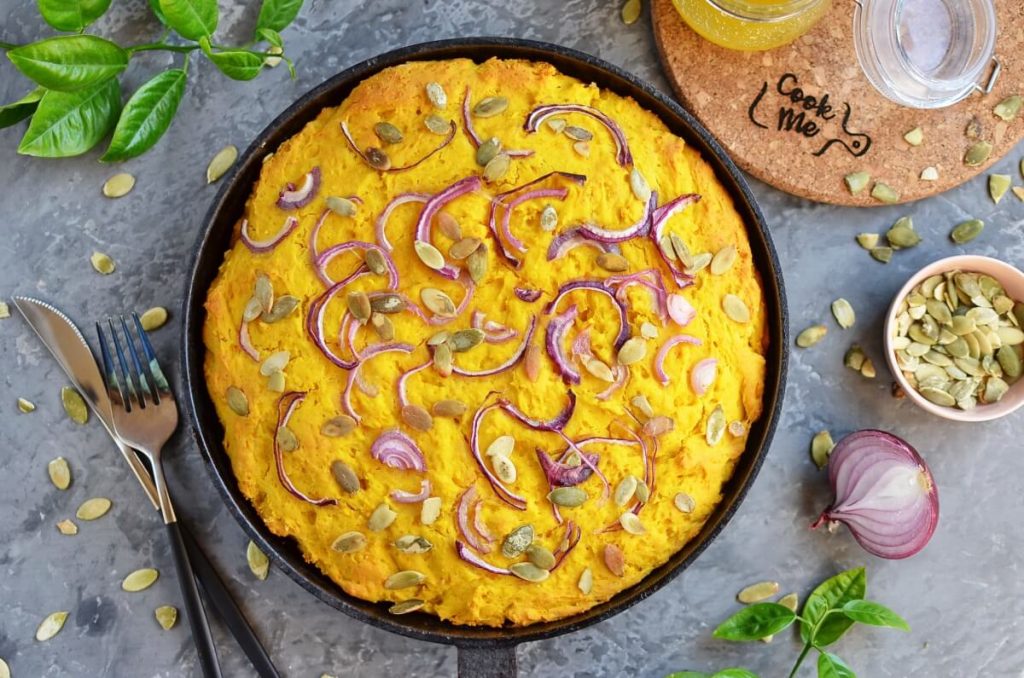 Ingredients for Double Pumpkin Cornbread with Red Onion :
2 cups All-purpose flour
2 cups Yellow cornmeal
1 ½ tbsp Baking powder
1 tsp Kosher Salt
1 cup Whole milk
8 oz Cream Cheese
1 can Pumpkin puree
2 tbsp Honey
½ cup (1 stick) Unsalted butter
½ small Red onion
¼ cup Pumpkin seeds
These Pumpkin Soft Fluffy Dinner Rolls go well alongside a multitude of meals – from soup to salad, from chilli to cheese. I always make a batch or two of these for Thanksgiving dinner. I can make them a day in advance and cook them fresh when I need to. …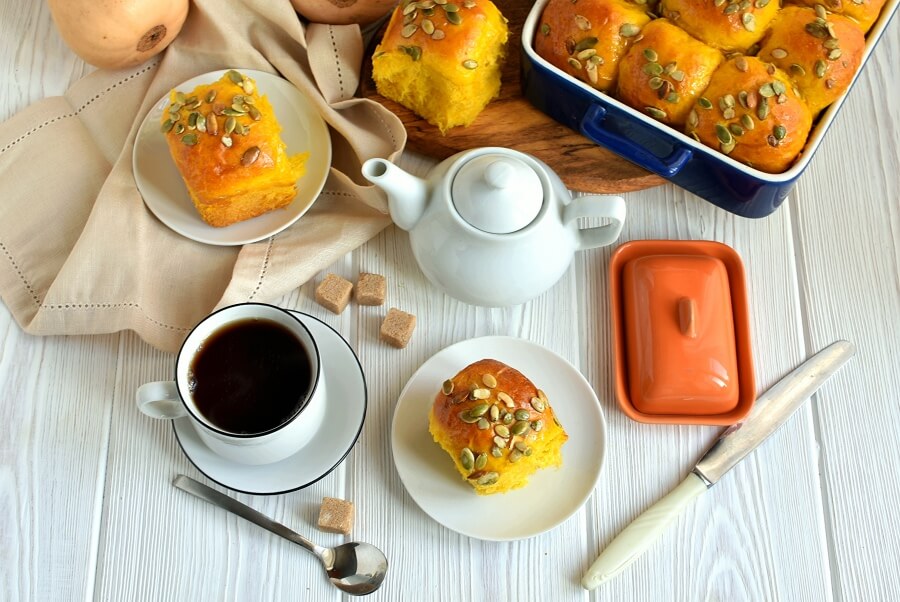 Ingredients for Pumpkin Soft Fluffy Dinner Rolls:
½ cup Pumpkin puree
⅔ cup Heavy cream
⅓ cup Milk
1 Large eggs
⅓ cup Sugar
½ cup Cake flour
3½ cups Bread flour
1 tbsp Active dry yeast
1½ tsp Salt
1 Eggs
1/3 cup Pumpkin seeds

FOR THE SYRUP:
2 tsp Sugar
2 tsp Water
Worth all the love and effort put into these Pumpkin Dinner Rolls you are guaranteed to impress your guests with these mini delights. If you follow all our recipes, you will have noticed that your Thanksgiving table is almost complete and now it's time to add these. …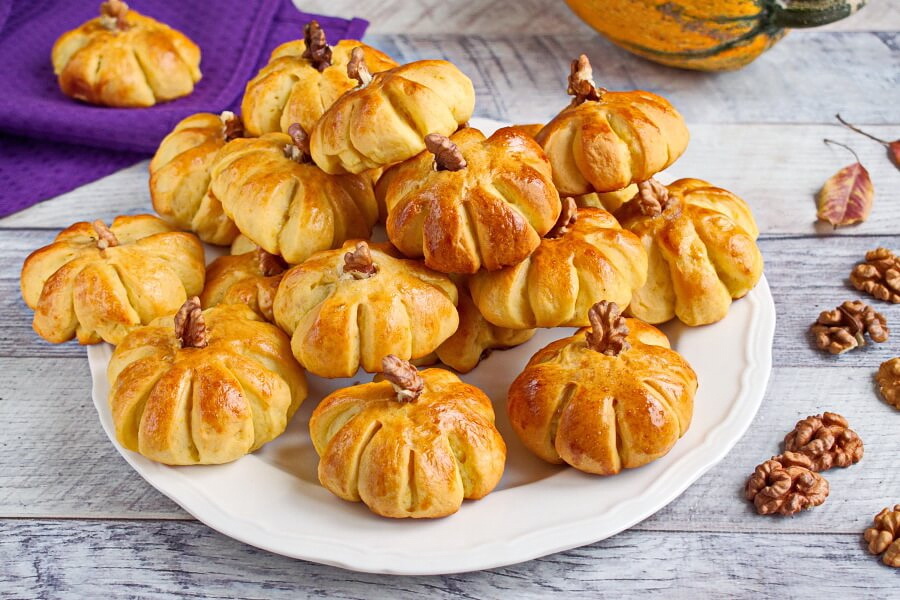 Ingredients for Pumpkin Dinner Rolls:
¾ cup Whole milk
1 cup Pumpkin puree
2/3 cup Sugar
6 tbsp Butter
1 Large eggs
1 tsp Salt
2 packages Active dry yeast
¼ cup Water
5 cups All-purpose flour
1 Egg wash
15-20 halves Walnuts
¼ cup Butter
This Vegan Pumpkin Streusel Bread recipe is topped with a delicious moist brown sugar streusel. If your streusel is too moist and paste-like, add another 1 to 2 tablespoons of flour, as needed to dry it out. The recipe suggests using unsweetened vanilla almond milk but you could substitute with…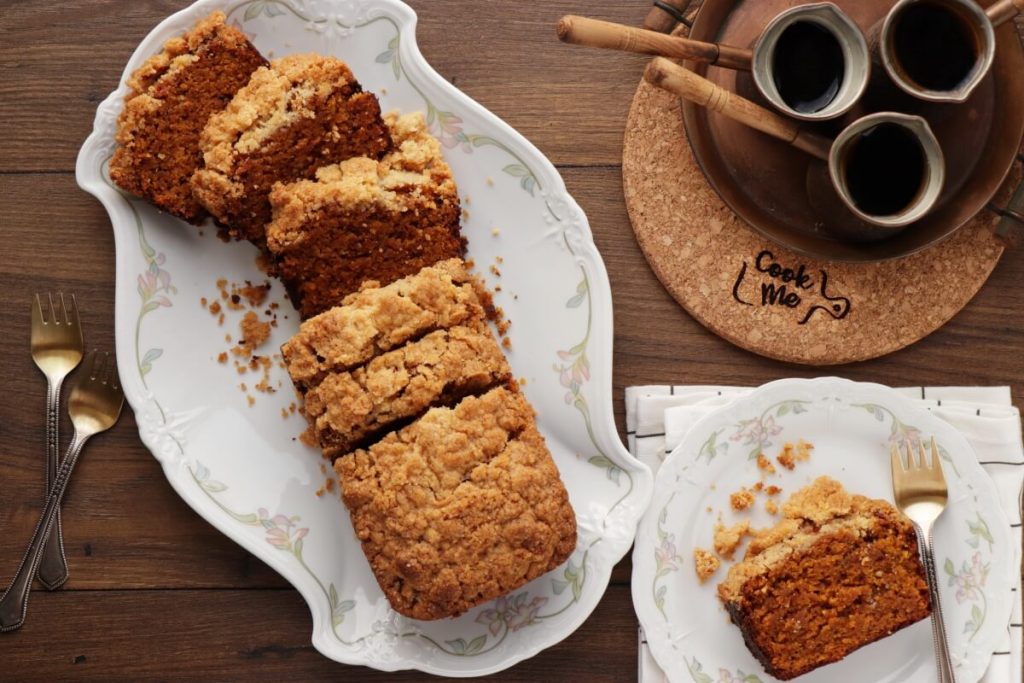 Ingredients for Vegan Pumpkin Streusel Bread:
FOR STREUSEL CRUST:
¼ cup Vegan butter
¼ cup Brown sugar
about ¼ cup All-purpose flour

FOR BREAD:
¾ cup Pumpkin puree
¾ cup Granulated sugar
¼ cup Brown sugar
⅓ cup Coconut oil
¼ cup Almond milk
2 tbsp Molasses
1 tbsp Vanilla extract
1 tsp Cinnamon
1 tsp Pumpkin pie spice
1 tsp Ground Allspice
¾ tsp Ground cloves
½ tsp Ground nutmeg
1 pinch Salt
1 cup plus 2 tbsp All-purpose flour
2 tsp Baking powder
I love making this Crusty Cranberry Nut No Knead Bread because just like the title suggests, it doesn't require any kneading. Any bread that I don't have to knead is a winner in my book! This bread loaf is so simple to make! Simply mix all of the ingredients together….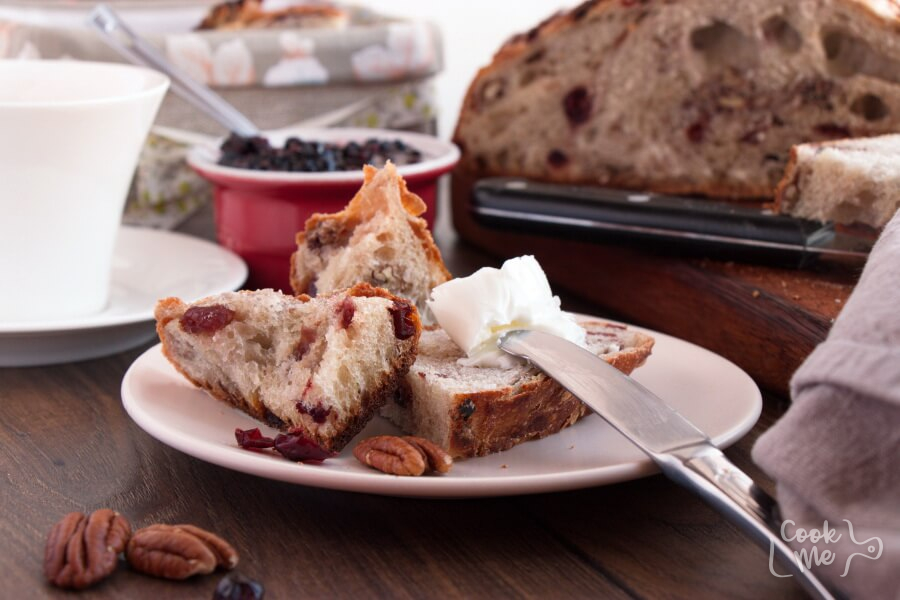 Ingredients for Crusty Cranberry Nut No Knead Bread:
3 cups + 2 tbsp All-purpose flour
2 tsp Coarse salt
½ tsp Instant yeast
¾ cup chopped Pecans
¾ cup dried Cranberries
1 tbsp Honey
1 and ½ cups warm Water
Our No-Knead Pecan Pumpkin Bread recipe is as the name suggests, the simplest way to a deliciously, warm and scrumptious, homemade toasted pecan nut and pumpkin bread. With the added touch of our favorite pumpkin pie spice and pumpkin puree, with a whisk of honey …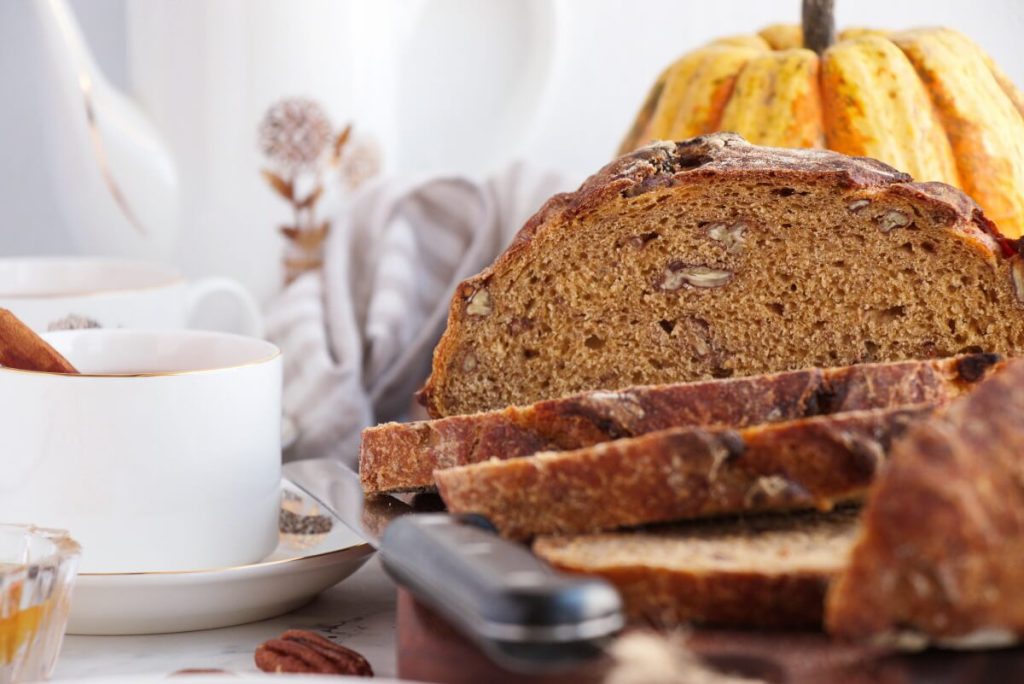 Ingredients for No-Knead Pecan Pumpkin Bread:
3 cups + 2 tbsp Bread flour
1½ tsp Salt
½ tsp Active dry yeast
⅔ cup Pecans
1 tsp Pumpkin pie spice
1 cup Water
¾ cup Pumpkin puree
¼ cup Honey
Thanksgiving Lard Bread is a wonderful bread to have on standby over the holidays. If your house is anything like mine over Thanksgiving and Christmas, it's like a revolving door or guests and people I need to feed. Having a few loaves of this bread in the house ensures that…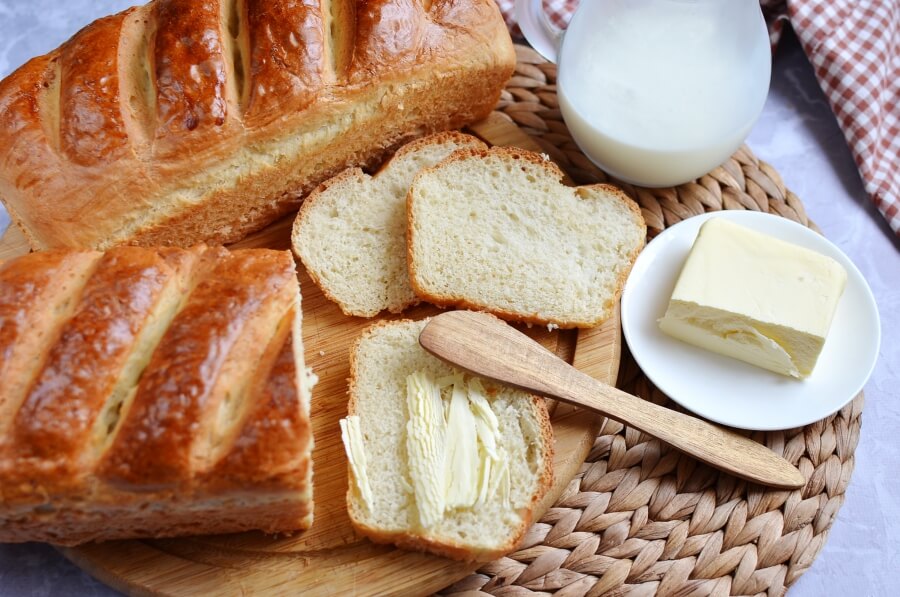 Ingredients for Thanksgiving Lard Bread:
1 ¼ cups Water
1 tbsp Active dry yeast
1 cup Milk
2 tbsp Sugar
4 tbsp Lard
1 tsp Salt
7 cups Bread flour
Egg whites
These Buttery Fluffy Cornmeal Dinner Rolls are a great accompaniment for stews and soups. I make a batch of these every Thanksgiving and they always go down a treat because they are so light and fluffy. They're easy to make too, which is always helpful at this time of year!…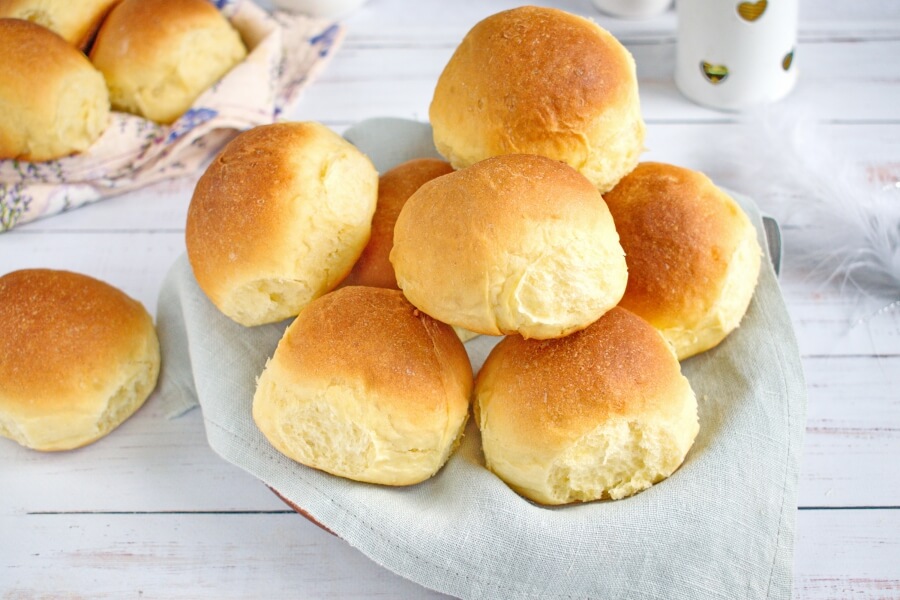 Ingredients for Buttery Fluffy Cornmeal Dinner Rolls:
2 cups Milk
⅔ cup Yellow cornmeal
1 ½ tbsp Instant yeast
½ cup (1 stick) Butter
⅓ cup Granulated sugar
1 tsp Salt
3 Large eggs
6 – 6-1/2 cups All-purpose flour
These Cloverleaf Herb Dinner Rolls are small and cute shaped dinner rolls filled with a mix of different herbs and seasonings such as dill weed, dried thyme, dried basil and onion powder. Packed with herbal flavors that you can serve as a perfectly delicious accompaniment with your first course, soup…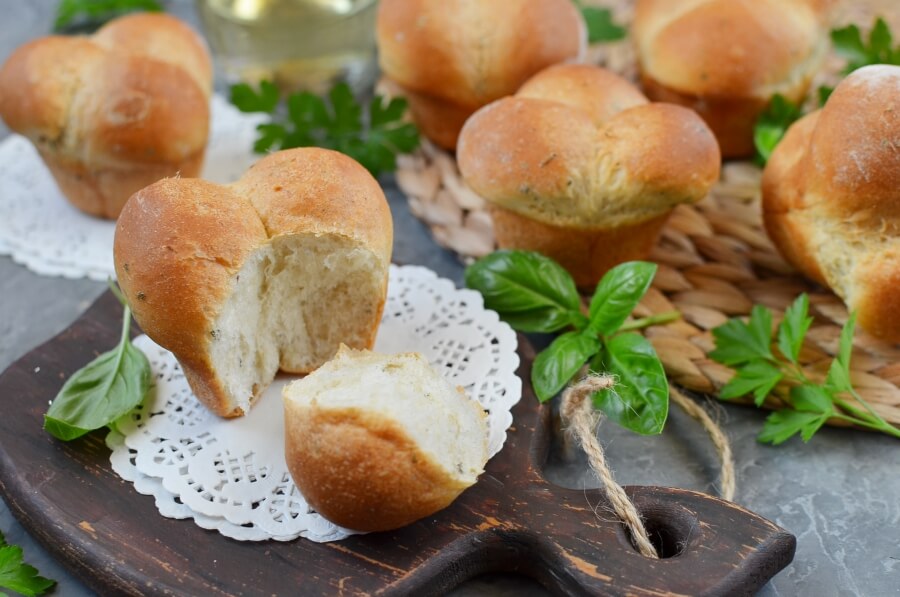 Ingredients for Cloverleaf Herb Dinner Rolls:
2 packages (¼ ounce each) Active dry yeast
2¾ cups Water
⅓ cup Vegetable oil
¼ cup Honey
1 tbsp Salt
2 tsp Dill weed
2 tsp Dried thyme
2 tsp Dried basil
1 tsp Onion powder
1 Large eggs
4 cups Whole wheat flour
4 – 4½ cups All-purpose flour
This Cornbread with Caramelized Apples and Onions is one of my new Thanksgiving recipes this year. I love the flavors of the caramelized onion, apple and thyme in this recipe. Cornbread is a fantastic side dish for any Thanksgiving meal. I know you'll love it too if you make this one. …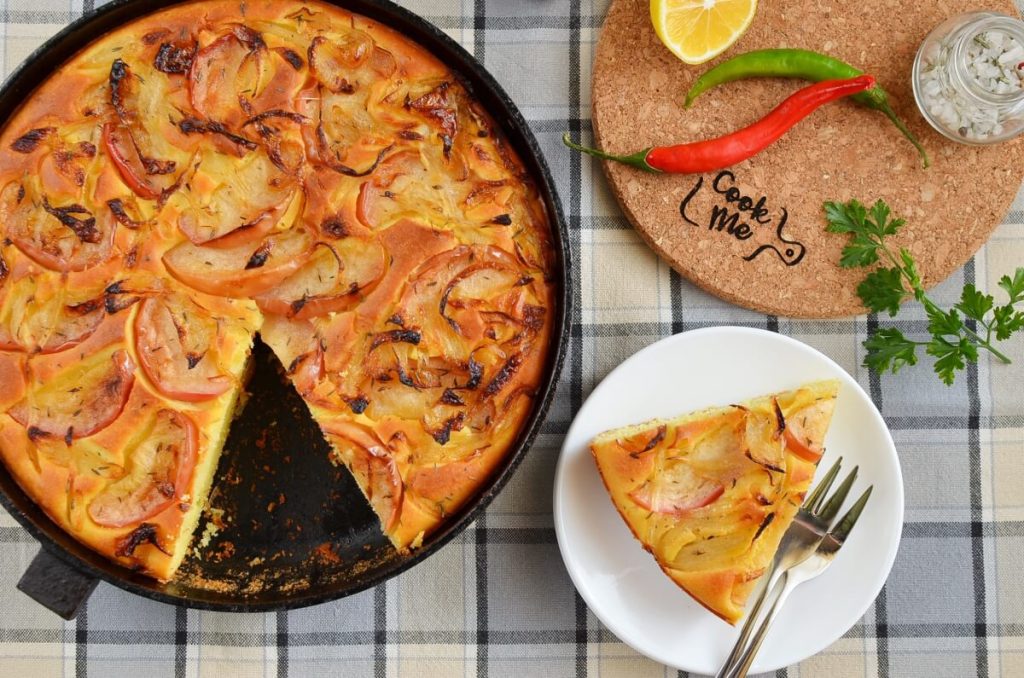 Ingredients for Cornbread with Caramelized Apples and Onions:
¾ cup plus 2 tbsp Unsalted butter
1 Onion
1 tsp Kosher Salt
Black pepper
2 Apples
5 tbsp Sugar
2 tsp Dried thyme
1½ cups Cornmeal
1 cup All-purpose flour
1 tbsp Baking powder
2 Large eggs
1 ½ cups Buttermilk