2 lb

Apricots

halved and pitted

4 oz

Golden raisins

just under 1 cup

1 tsp fresh

Ginger root

grated
Gluten Free Apricot Chutney
I always have a batch of this Gluten Free Apricot Chutney in my store cupboard and it has come in so handy on many occasions. I love to place a little bowl of this on a cheeseboard. Or if I have leftover roast meat (such as pork), I like to make myself a sandwich with apricot chutney. It's super easy to make too!
All you have to do is boil up the ingredients in a large pot. Once the apricots have softened, remove them and place them in sterilized jars. Then reduce the cooking liquid to a thick syrup and pour it into the jars. You can eat this chutney straight away, but I find the flavor improves if you store it for 3-4 weeks first. This chutney will keep for around 6 months in a cool dark place.
To make Apricot Chutney, you will need the following ingredients: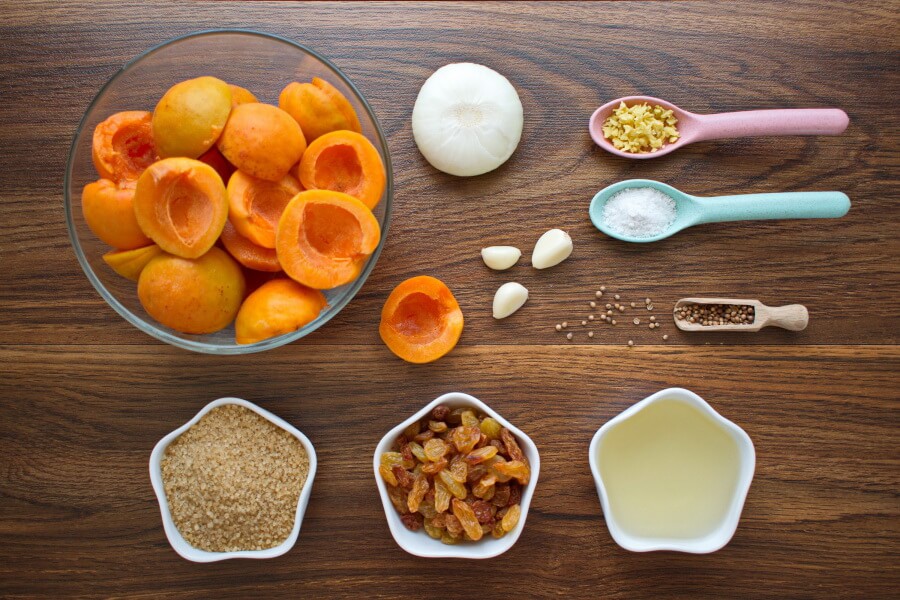 So, how to make Apricot Chutney?
Steps to make Gluten Free Apricot Chutney
Slice the onions and garlic

2

Place all ingredients in a large pot

2

Bring to a boil

10

Place the apricots in sterilized jars

5

Reduce the cooking liquid

10

Store

5