3 tbsp

Olive oil

divided (1 tbsp + 2 tbsp)

1

Onion

small, finely chopped

¾ cup

Marinara sauce

divided (¼ cup + ½ cup)

½ cup

Mozzarella

finely chopped or shredded part-skim

1 tsp

Dried Italian seasoning

4 slices

Mozzarella

part-skim

4

Hamburger buns

split and toasted

¼ cup

Parmesan cheese

shredded
Chicken Parmesan Burgers
These Chicken Parmesan Burgers are a recent addition to my meal prep. One of my kids has developed an obsession with chicken parm and there are days when it is easier to give in rather than face a meltdown at dinner time! So I've been looking for new ways to serve this classic chicken dish like my chicken parmesan pizza recipe.
I've often found chicken burgers to be a bit bland, and I find that the addition of marinara sauce, mozzarella and fresh basil leaves is a great way to liven up a boring burger. Plus it keeps the kids happy which always makes me happy too! Here's a top tip when making burger patties – wet your hands so that the mixture is less sticky!
To make the Chicken Parmesan Burgers, you will need the following ingredients: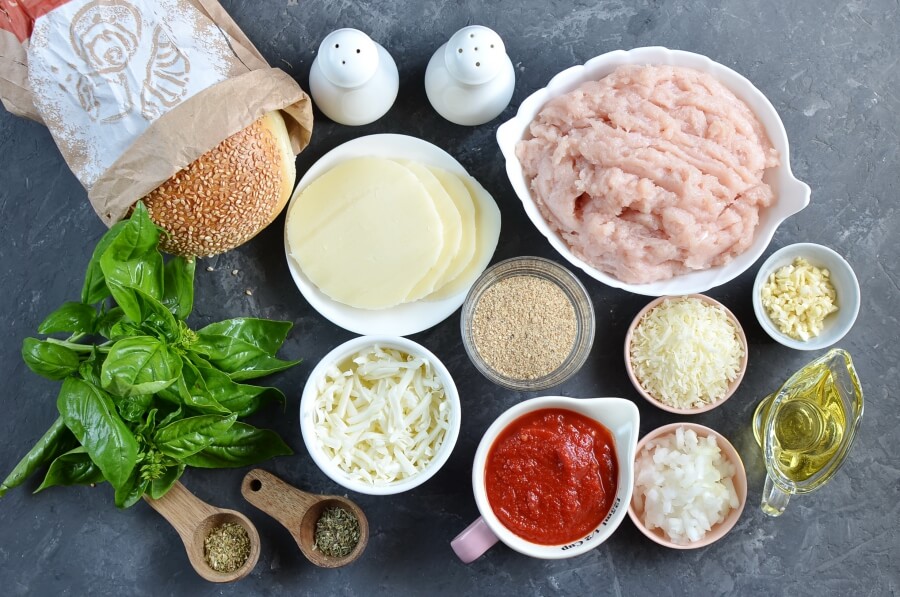 So, how to make Chicken Parmesan Burgers?
Steps to make Chicken Parmesan Burgers
Cook the onion and garlic

5

Make the burger patties

3

Heat remaining oil

2

Cook the burgers

10

Melt mozzarella on top

2

Serve

5