1/2 cup

Cheddar cheese

grated

1

Onion soup mix

sachet (approx. 1 oz)

1 tsp

Worcestershire sauce
Easy Beef Burger
What you've all been waiting for – my Easy Beef Burger recipe!
I was looking back over my recipes and couldn't believe there was such an important one missing! So of course I wanted to share my classic homemade burger recipe with you, just in time for when you next have some mates round and light up the grill. I pack a lot of flavor into my burgers – plenty of dried herbs, sauces, 3 types of onion and garlic! and my secret ingredient – onion soup mix. Yes, onion soup burgers might sound a little strange but it adds heaps of extra flavor believe me!
Serve your beautifully grilled burger on top of freshly toasted buns drizzled with your favorite condiments, you'll be in heaven!
To make Ultimate Beef Burger, you will need the following ingredients: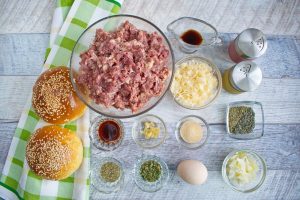 So, how to make Ultimate Beef Burger?
Steps to make Easy Beef Burger
Heat the broiler

5

Combine the ingredients

5

Shape the burgers

5

Broil the burgers

6

Toast the buns

1

Serve

5