1 1/2 cups

Wafers

vanilla wafers

3 tbsp

Corn syrup

light corn syrup
Cocoa and Nut Rum Balls
Chocolatey, nutty and heady with rum, why not try my easy Cocoa and Nut Rum Balls recipe? Those of you who've followed my previous posts may be a bit surprised that I've used rum in one of my recipes. In daily life, I'm strictly tee-total! But I often use alcohol in my cooking, whether it's wine to deepen the flavor of a sauce or sherry to make a traditional trifle!
And in this cocoa balls recipe, the rum works perfectly to add a deep background heat that makes them that little bit more sophisticated! The cocoa and nuts add the rest of the flavor and texture, and everything is held together by the crushed wafers and syrup.
To make Cocoa and Nut Rum Balls, you will need the following ingredients: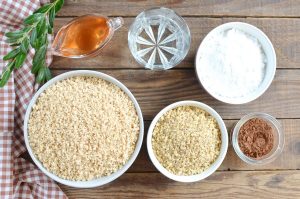 So, how to make Cocoa and Nut Rum Balls?
Steps to make Cocoa and Nut Rum Balls
Combine the dry ingredients

3

Add the rum and syrup

3

Shape the dough

15

Sugar the balls

10

Store the balls

2d

Serve

10