1 1/2 cups

Ham

smoked, chopped into small cubes

4 oz

Mozzarella

sliced thinly

1 tsp

Olive oil

extra-virgin

1 tbsp

Parmesan cheese

grated

2 cups

Marinara sauce

warmed
Ham and Cheese Calzones
Loaded with tasty meat and cheese, my Ham and Cheese Calzones are a dinner party winner, popular with kids and adults alike!
I love calzone. A cross between a pizza and a pie, it might even be better than a pizza as it seems to be packed with more sauce and delicious ingredients than you can fit on a regular pizza! And my version is no different. I use three types of cheese: ricotta, parmesan and mozzarella, and two types of ham: smoked cubes and prosciutto, plus a good ladle of marinara sauce and a cayenne pepper kick to really pack these folded pizzas with all kinds of yummy tastes.
You can buy premade pizza dough to make the process super easy too!
To make Ham and Cheese Calzones, you will need the following ingredients: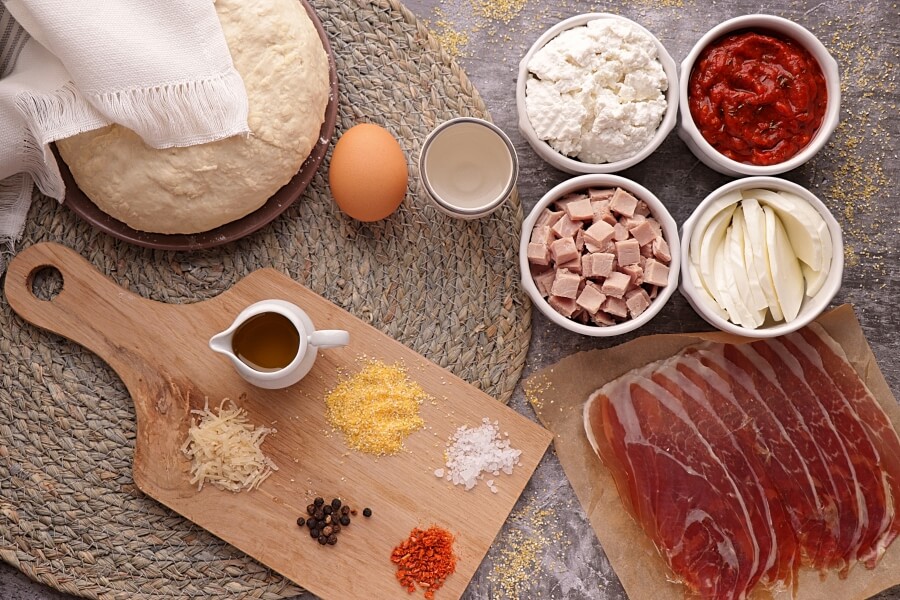 So, how to make Ham and Cheese Calzones?
Steps to make Ham and Cheese Calzones
| | |
| --- | --- |
| 1 | Heat the oven and prepare a baking tray |
| 5 | Roll out the pizza dough |
| 1 | Assemble the calzone |
| 2 | Add the ricotta |
| 1 | Season the filling |
| 2 | Add the ham and mozzarella |
| 2 | Seal the calzone |
| 1 | Prepare the calzone for baking |
| 2 | Add the egg wash |
| 2 | Sprinkle with Parmesan |
| 10 | Bake the calzone |
| 1 | Prepare the marinara sauce |
| 15 | Serve |