For the filling

12

Plums

stones removed, roughly chopped

For the base

For the topping
Healthy Vegan Plum Slice
This Healthy Vegan Plum Slice recipe is a very easy, very healthy and very delicious sweet treat! I love making these plum slices. They are so simple and they are a great way to use up some of the annual plum harvest. They keep for up to 5 days if they are refrigerated in an airtight container too. 
I usually make the plum filling a day or two in advance and keep it cool in the refrigerator until I am ready to use it. The base is made from rolled oats, almond meal, maple syrup, coconut oil, salt and cinnamon which I top with the plum filling. I top the slices with oats, almonds, pumpkin seeds, sunflower seeds and coconut oil and bake in the oven. There you have it! Simple healthy plum slices!
To make Healthy Plum Slices, you will need the following ingredients: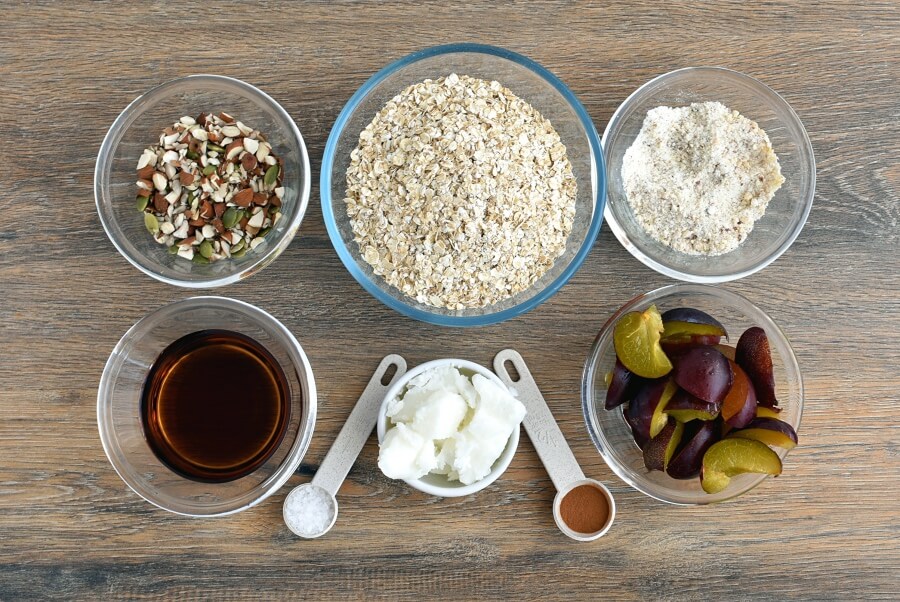 So, how to make Healthy Plum Slices?
Steps to make Healthy Vegan Plum Slice
Make the plum filling

15

Heat the oven and prepare a baking sheet

5

Make the base

1

Cook the base

15

Add the plum filling

2

Make the topping

1

Add the topping

1

Bake

20

Cool

Serve or store