2 tbsp

Olive oil

extra-virgin

1 extra-large

Onion

chopped

2 pounds

Lean ground beef

2 tbsp

Ginger

grated fresh root

1

Chili pepper

serrano, finely chopped

2 tsp

Cilantro

chopped fresh

1 tsp

Cayenne pepper

ground

1 (28 ounce) can

Tomatoes

diced

3

Potatoes

peeled and diced
Keema Aloo (Ground Beef and Potatoes)
This Keema Aloo (Ground Beef and Potatoes) is hands down the best dish to make for a crowd. This recipe feeds 8 people, but I have doubled it before when I had a large crowd for dinner. You can make it in advance and heat it up just before you serve it. It works on its own as it's a one-pot recipe and doesn't need a side dish. But if you're out to impress, you could serve some pillowy naan bread on the side.
Aloo is the Indian word for potatoes and Keema means ground meat. In this recipe, I use ground beef but you could substitute this with lamb or goat which are typically found in Indian dishes.
This recipe bursts with flavor from the dried Indian spices like turmeric, cumin and garam masala and it also benefits from the freshness of cilantro and ginger root.
To make Keema Aloo, you will need the following ingredients: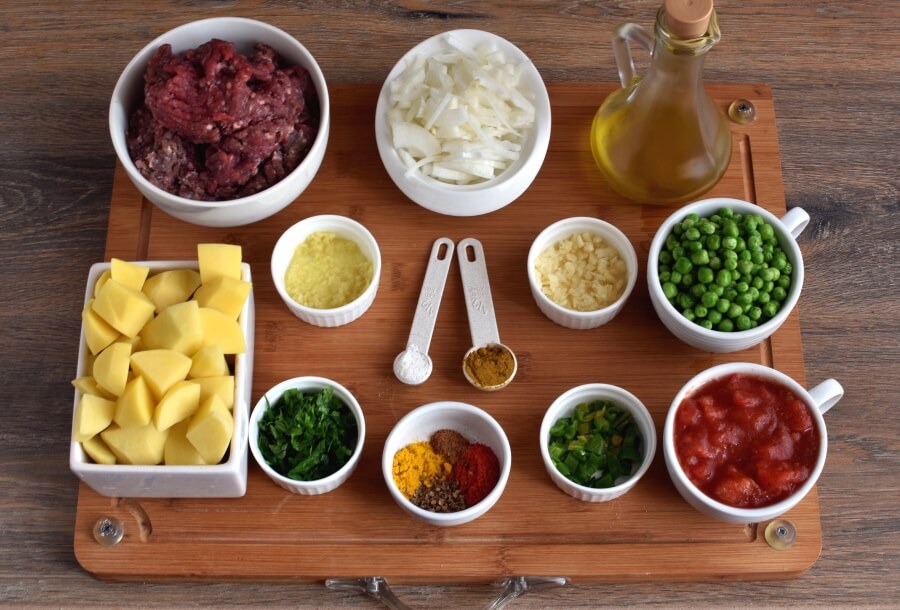 So, how do you make Keema Aloo?
Steps to make Keema Aloo (Ground Beef and Potatoes)
Heat oil in a pot

3

Cook the onion

12

Add the beef, garlic, ginger, chili and cilantro

15

Stir in coriander, salt, cumin, cayenne pepper, and turmeric

5

Mix in tomatoes and potatoes

15

Add peas

15

Sprinkle garam masala on top

5

Serve