3 ½ lb

Peaches

peeled, pitted, and cut into chunks
Easy Homemade Peach Jam (No Pectin)
I called up my Auntie Jeanie last week to get her Easy Homemade Peach Jam recipe as I was craving its peachy sweetness. A phone call with Jeanie is such a highlight – I don't know why I don't call her more regularly. In addition to the jam recipe, she told me the secret to peeling fresh peaches. The trick is to add the peaches to a pot of boiling water for 45 seconds. Then quickly remove them and dunk them in a bowl of iced water for about 1 minute. With a paring knife, cut an X at the bottom of each peach and peel off the skin.
To make this jam, you only need 3 ingredients – peaches, lemon juice and sugar. Boil these together until your jam sticks to spoon when it's lifted and turned sideways. Cool and store in sterilized jars เซียลิส.
To make Easy Homemade Peach Jam, you will need the following ingredients: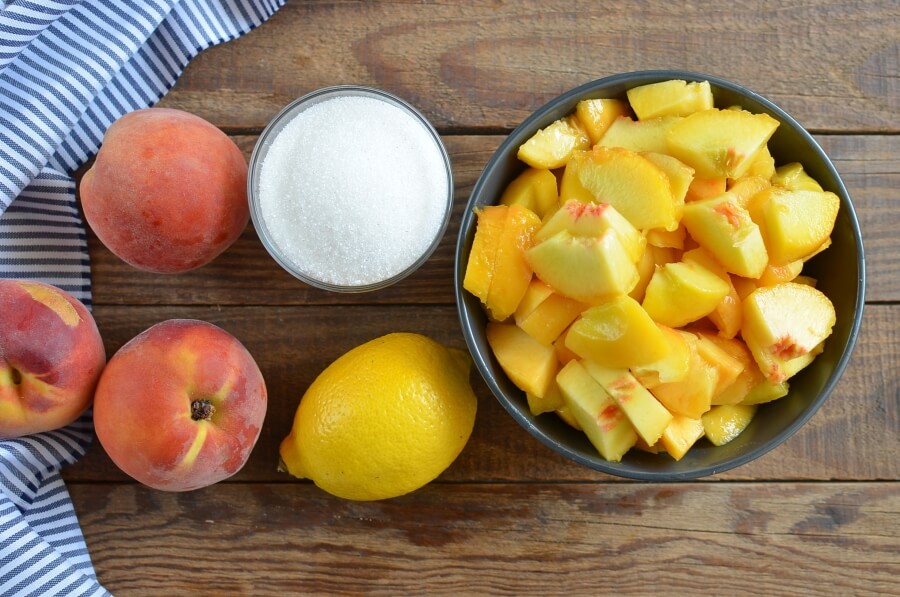 So, how to make Easy Homemade Peach Jam?
Steps to make Easy Homemade Peach Jam (No Pectin)
Bring peaches and lemon juice to a boil

5

Add sugar and boil

30

Ladle the jam into sterilized jars

2

Serve