10 cups

Soft pretzel roll

cubes, about 8 standard pretzels

3-4 stalks

Celery

small, diced

3

Carrots

medium, small diced

1

Onion

medium, small diced

2 cloves

Garlic

finely minced

2 tsp

Parsley

chopped, fresh

1 tbsp

Sage

chopped, fresh

1 tbsp

Thyme

chopped, fresh

1 lb

Sausages

chicken or other lean

1 ½ cups

Chicken broth

low-sodium
Pretzel and Sausage Stuffing
Pretzel and Sausage Stuffing is a good way to shake up the traditional turkey roast dinner this year. I always try to put a unique twist on our Thanksgiving meal and this was last year's attempt. It went down really well with my guests and I know it will with yours too!  
I start by toasting the pretzel chunks in the oven. Then I sauté some veggies and mix these with the pretzel chunks in a large bowl. Next I fry some sausage in a pan and add that to the pretzel mixture. I make an eggy broth which binds the stuffing together before cooking it in the oven for 45 minutes. 
To make Pretzel and Sausage Stuffing, you will need the following ingredients: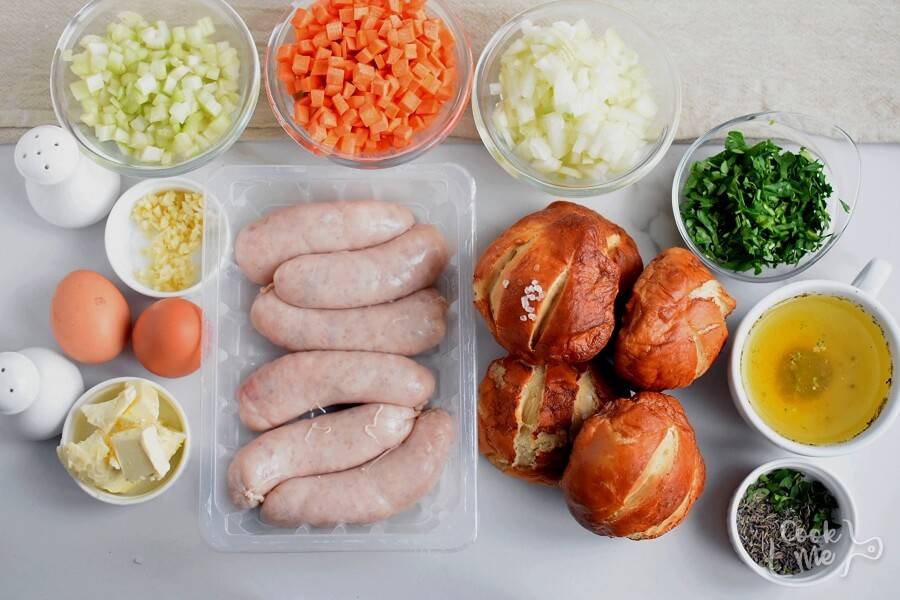 So, how to make Pretzel and Sausage Stuffing?
Steps to make Pretzel and Sausage Stuffing
Heat the oven and prepare a baking dish

5

Toast the pretzel cubes

10

Melt butter

1

Cook veggies

5

Add parsley, sage and thyme

2

Cook the sausage

5

Drain and add sausage to the pretzel mixture

2

Mix eggs and broth

3

Assemble the stuffing

2

Bake

45

Serve