Pumpkin Orange Cake
This Pumpkin Orange Cake is my absolute favorite cake to make as soon as the pumpkins come out for fall. It's packed full of flavor and yummy ingredients – citrussy orange, sweet pumpkin, crunchy walnuts, chewy raisins, and warming spices. Perfect with a hot mug of chai or cocoa. I used to only use the juice of the orange for this recipe but there is so much great flavor in the rind and it also adds some more texture to the cake so now I just throw the whole orange (minus the pips!) into a blender and add everything to the batter.
This pumpkin orange cake has a lovely rise thanks to the combination of the baking powder and soda. For an extra fluffy crumb, you can sieve the flour mixture from a height into the batter – this will add more air and make the cake even lighter!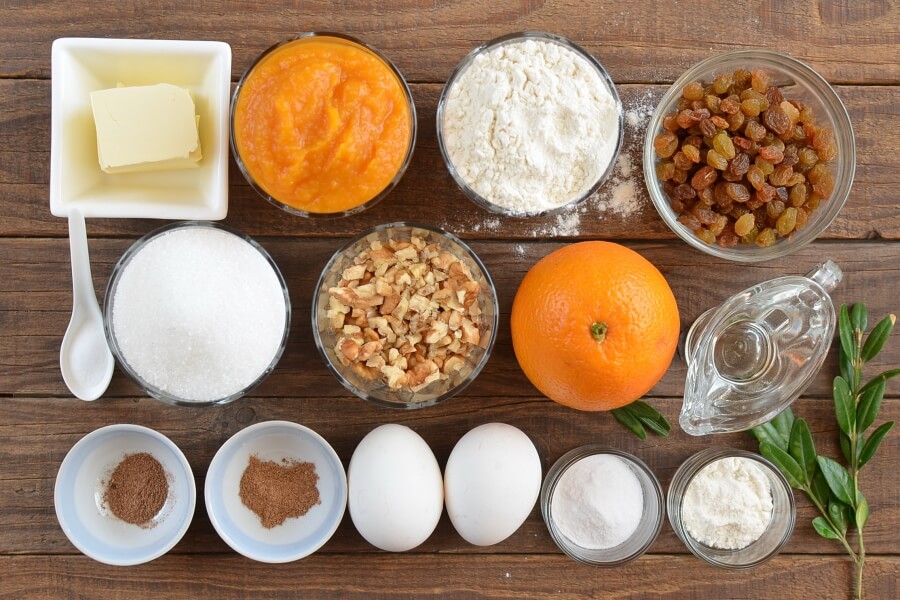 So, how to make Orange and Pumpkin Cake?
Steps to make Pumpkin Orange Cake
Heat the oven and prepare a pan

1

Blend the orange

5

Combine the butter and sugar

3

Add the eggs

3

Add the pumpkin and orange

1

Combine the dry ingredients

1

Add the dry ingredients to the batter

5

Add the nuts and raisins

3

Bake

50

Leave to cool

10

Serving Orange and Pumpkin Cake