12 ounces

Andouille sausage

cut into 1/2-inch slices

2 tsp

Chili powder

divided

2 cups

Onion

chopped white

1 1/2 cups

Green bell pepper

chopped

1 tbsp

Garlic

finely chopped

1 (28 ounce)

Can crushed tomatoes

1 (15 ounce)

Black beans

drained and rinsed

1 can

Hot diced tomatoes

10 ounce, with habaneros

For serve
Spicy Creole Chili
This is a super quick and tasty Spicy Creole Chili recipe inspired by the time I spent living in Louisiana. It differs from the usual chili because it uses a mix of chicken and sausage meat. I use andouille sausage which is coarse-grained and smoked. It's typically associated with Louisiana Creole cuisine. I simply cook the sausage meat and chicken and I add onion, green bell pepper, tomatoes, black beans, chili powder and other spices to make a spicy chili with a difference.
I like my chili to be hot so in addition to the 2 teaspoons of chili powder in the recipe, I add a few extra dashes of hot sauce. But that's not to everyone's taste so it's best to suit yourself. This is a great midweek meal as it's super quick and easy to make.
To make Spicy Creole Chili, you will need the following ingredients: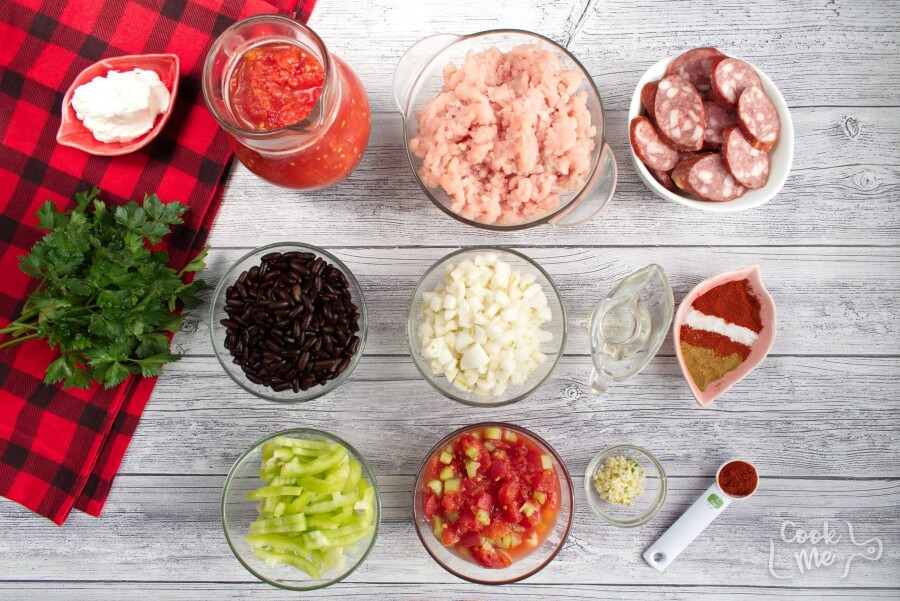 So, how do you make Spicy Creole Chili?
Steps to make Spicy Creole Chili
Heat oil in a pot

1

Cook the meat and chili powder

5

Remove meat

1

Cook onion, pepper and garlic

5

Add spices

1

Return the meat

2

Boil and simmer

10

Serve