1–2 tbsp

Olive oil

or coconut oil, or ghee

1

Shallots

extra large , chopped

4 cloves

Garlic

fat , roughly chopped

½ tsp

Ground paprika

or chili powder

1 tsp

Curry Powder

or garam masala

1 tsp

Mustard seed

black , optional

1 tsp

Fennel seeds

optional

1 tsp

Fenugreek leaves

, optional

2

Tomatoes

medium, diced, or 1 14-ounce can diced tomatoes

1 head

Cauliflower

sliced into 1-inch pieces, or small florets

For serve:
Vegan Tikka Masala with Cauliflower
This Vegan Tikka Masala with Cauliflower is a delicious take on a classic Indian dish. It is super simple to make too – you can have this dish prepped, cooked and on the table in just over 30 minutes!
To make this cauliflower tikka masala, start by sautéing shallot, ginger, and garlic. Add spices, seeds, and salt and toast until fragrant. Make sauce by adding diced tomato and coconut milk. Simmer and add cauliflower and red bell pepper. Cook until cauliflower is tender. Taste, add a squeeze of lemon juice. Add more salt if necessary. If you like spicy, add cayenne to taste. Serve in bowls over basmati rice or with naan or pita bread. Garnish with cilantro.
To make my Vegan Tikka Masala with Cauliflower, you will need the following ingredients: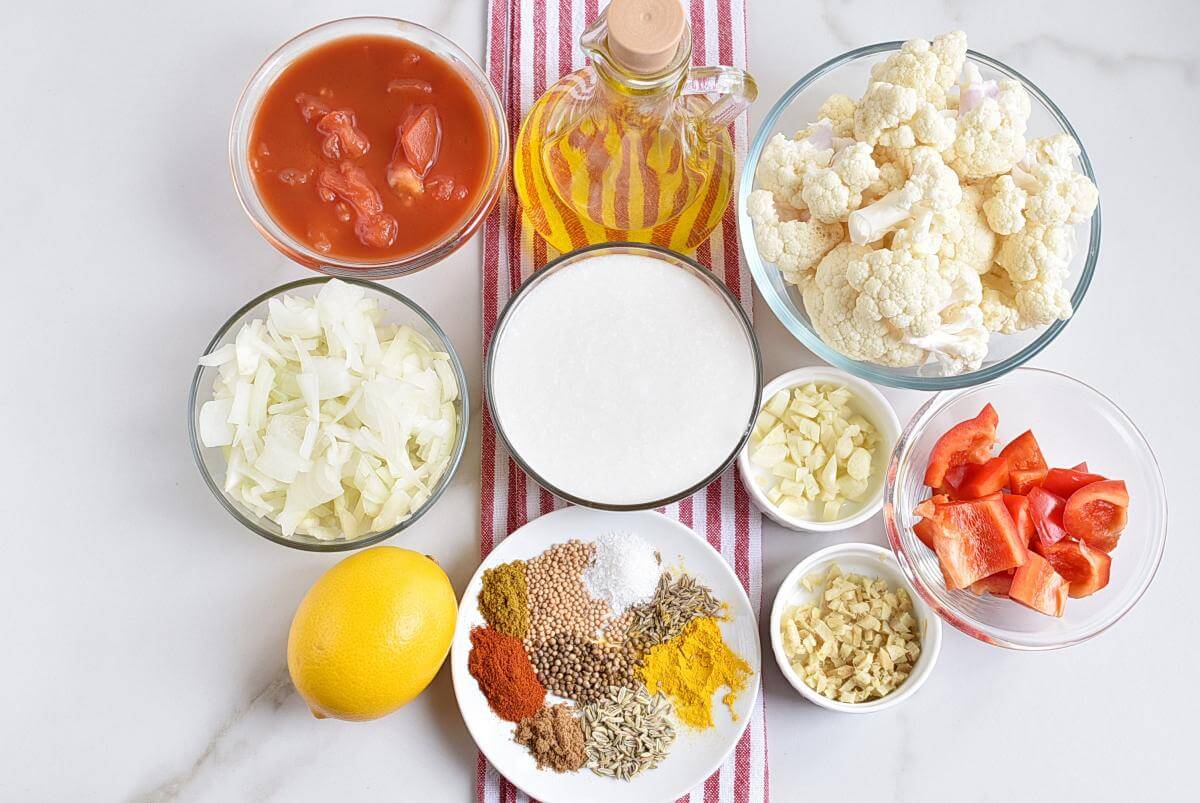 Steps to make Vegan Tikka Masala with Cauliflower
Heat oil

2

Sauté shallot, ginger and garlic

3

Add spices, seeds and salt

2

Add 1 teaspoon of cumin, 1 teaspoon of coriander, 1 teaspoon of ground turmeric, ½ teaspoon of paprika or chili powder, 1 teaspoon of garam masala or curry powder, 1 teaspoon of black mustard seeds, 1 teaspoon of fennel seeds, 1 teaspoon of fenugreek leaves, and 1 teaspoon of salt. Lightly toast, while stirring for 1-2 minutes, to enhance the flavor of the spices.

Add tomato and coconut milk and cook

3

Add veggies

10

Taste and season

2

Serve