TOP 10 Fall Soup & Stew Recipes
Easy Autumn Soup and Stew Ideas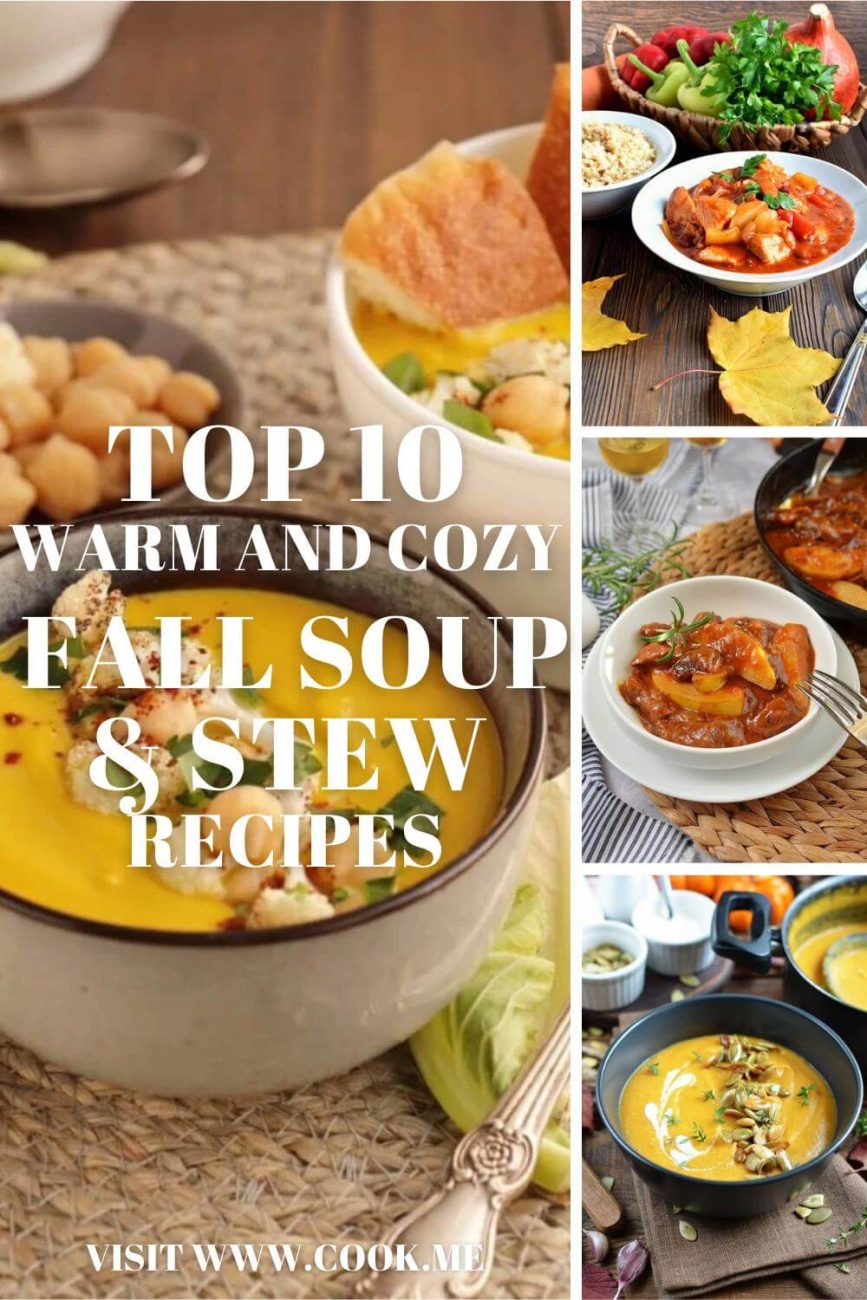 I love an easy dinner in one bowl and this Chickpea Pasta Soup serves up just that. I make a tomato base soup with sweet onions and garlic, some red pepper flakes, canned whole tomatoes and tomato puree then fill the pot with canned chickpeas, whole wheat pasta and freshly…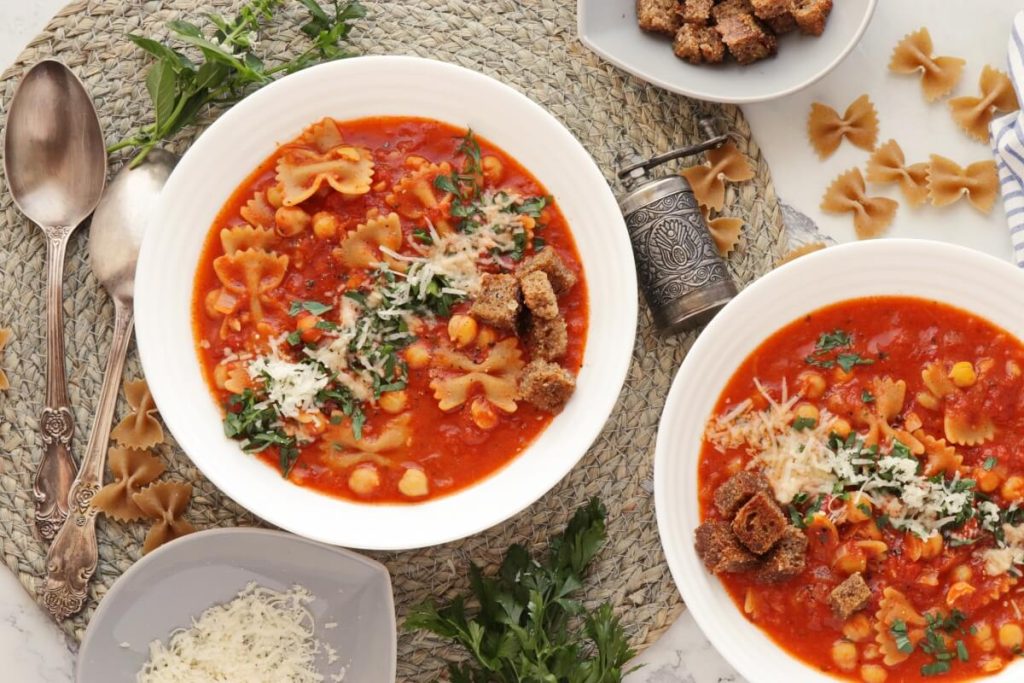 Ingredients for Chickpea Pasta Soup:
2 tbsp Olive oil
½ Sweet onions
2 cloves Garlic
¼ tsp Salt
¼ tsp Black pepper
2 tbsp Tomato paste
2 tbsp Brown sugar
2 tsp Dried oregano
⅛ tsp Red pepper flakes
1 (28-ounce) can Whole peeled tomatoes
1 cup Tomato puree
2 cups Vegetable stock
1 (15-ounce) can Chickpeas
1 cup Whole wheat pasta
1 cup Parmesan cheese
Parsley

FOR STOVETOP BREAD CRUMBS:
1 tbsp Olive oil
1 tbsp Unsalted butter
2 cups Bread crumbs
½ tsp Garlic powder
¼ tsp Salt
¼ tsp Black pepper
Last week I helped my father to harvest the apples from his large apple trees. In return, he presented me with a bag of apples. This Creamy Butternut Squash Soup with Apple was the perfect recipe. Use a pressure cooker or instant pot to make this soup ultra quickly.  Start…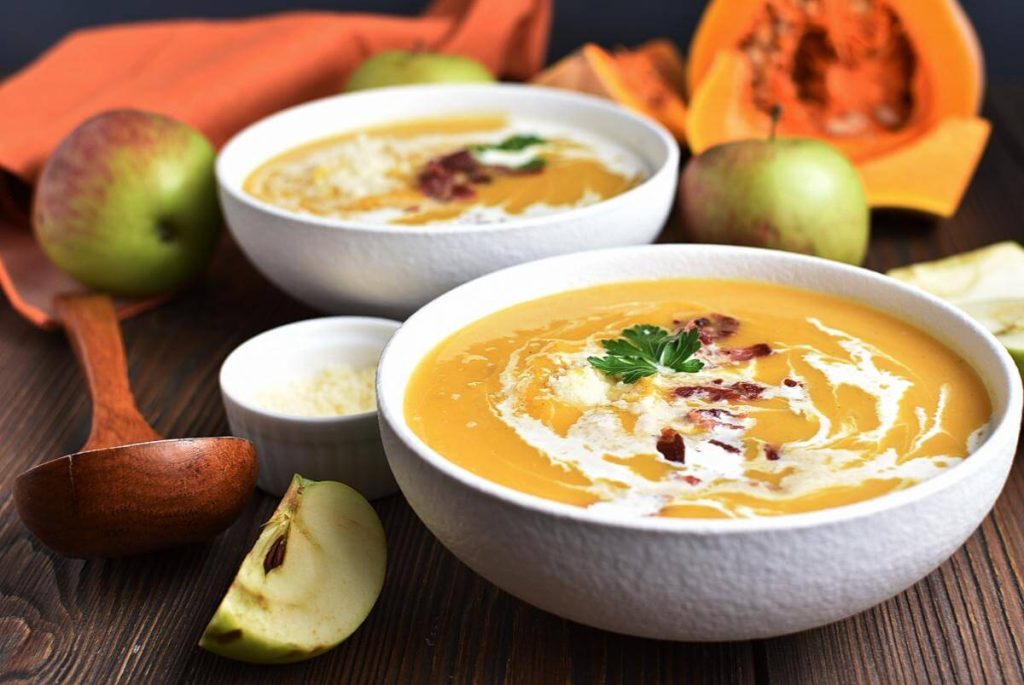 Ingredients for Creamy Butternut Squash Soup with Apple:
FOR THE SOUP:
4 cups Butternut squash
3 cups Apples
1 cup Onion
2 cups Chicken broth
¼ cup Sage
1 tsp Kosher Salt
1 tsp Black pepper

TO GARNISH:
¼ cup Heavy cream
4-5 Bacon
¼ cup Parmesan cheese
This One Pot Turmeric Cauliflower Soup promises to be your new best friend this winter. Turmeric has been recently made famous for its excessive amount of health benefits and preventative measures for a variety of diseases. Combined with chickpeas and cauliflower florets, this slightly spicy soup will not only keep…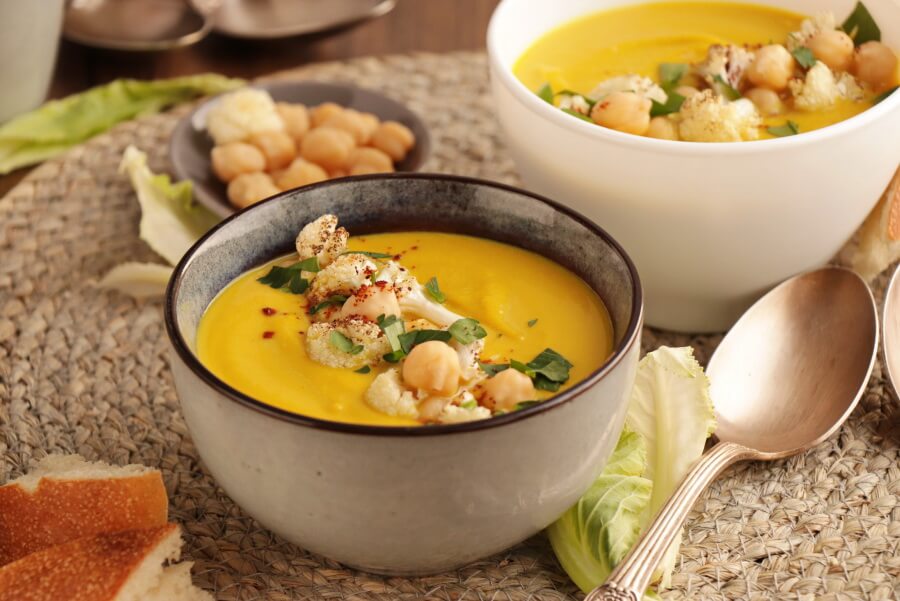 Ingredients for One Pot Turmeric Cauliflower Soup:
2–3 tbsp Olive oil
1 Yellow onions
2 cloves Garlic
5 cups Cauliflower florets
1 can Chickpeas
3 tsp Turmeric
1 tsp Sea salt
1 tsp Black pepper
½ tsp Cayenne pepper
¼ tsp Chili flakes
½ tbsp Tamari sauce
1 can Coconut milk
3 cups Vegetable broth
Parsley
Some may feel that combining Beef and Quince Stew is an unusual pairing however, you will be converted after just one mouthful. Traditionally this dish hails from Persia and is loved by the Mizrahi Jewish community, mostly on Shabbat. Tender, juicy beef, sweet and juicy quince, giving you a comforting…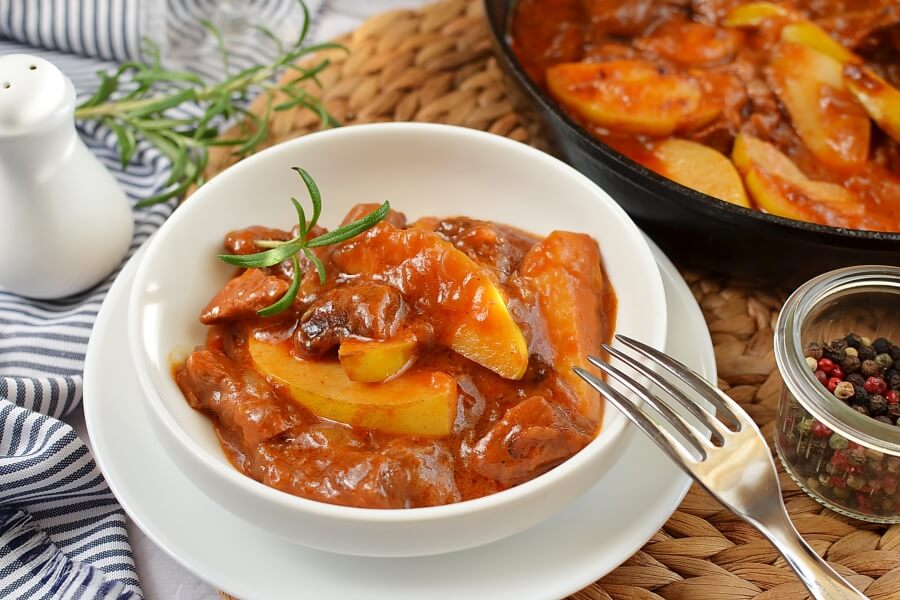 Ingredients for Beef and Quince Stew :
20 ml Cooking oil
1 Onion
4 Red onion
1 cloves Garlic
1 Quinces
Juice from 1 Lemon
500 g Beef
1 cup Tomato juice
½ tbsp Cinnamon
2-3 Bay leaf
¼ cup Tomato sauce
2 tbsp All-purpose flour
100 ml Water
1 tbsp Sugar
Salt
This Carne Adovada: New Mexico Red Chile Pork Stew is a great dish to make for a crowd. It is healthy, wholesome and warming. Don't be alarmed by the amount of chile powder in the recipe – New Mexico chile is quite mild. If you prefer more of a kick…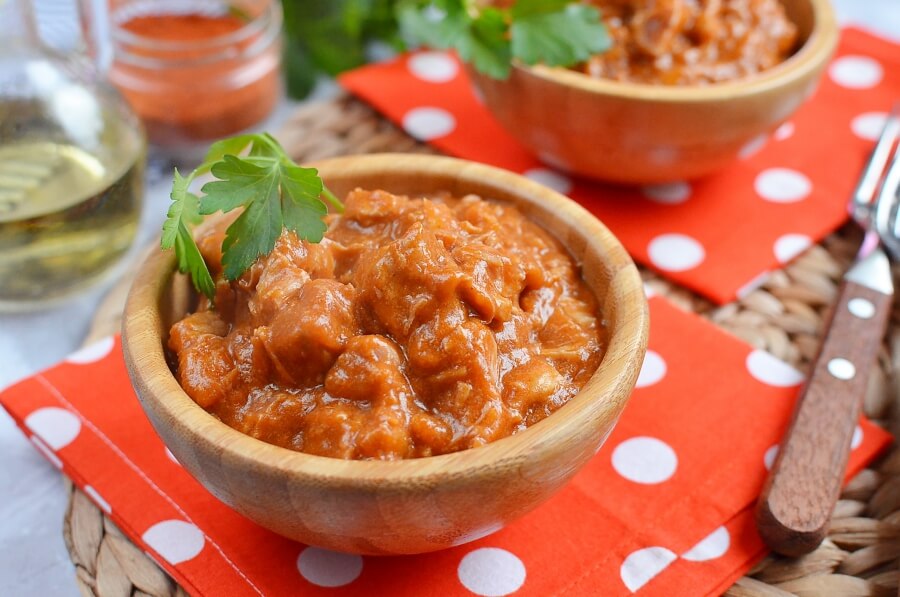 Ingredients for Carne Adovada: New Mexico Red Chile Pork Stew:
1 tbsp Vegetable oil
3 lb Pork
2 Onion
6 cloves Garlic
1 tsp Sea salt
1 tbsp All-purpose flour
½ tsp Black pepper
1 cup New Mexican red chile powder
5-6 cups Water
A popular dish in Indian is a Dhal curry and I have designed this Lentil and Sweet Potato Stew as an inspired alternative from the much loved authentic curry. Full and filling, I use onions, garlic, green lentils and sweet potatoes cooked in a vegetable broth and seasoned with bay…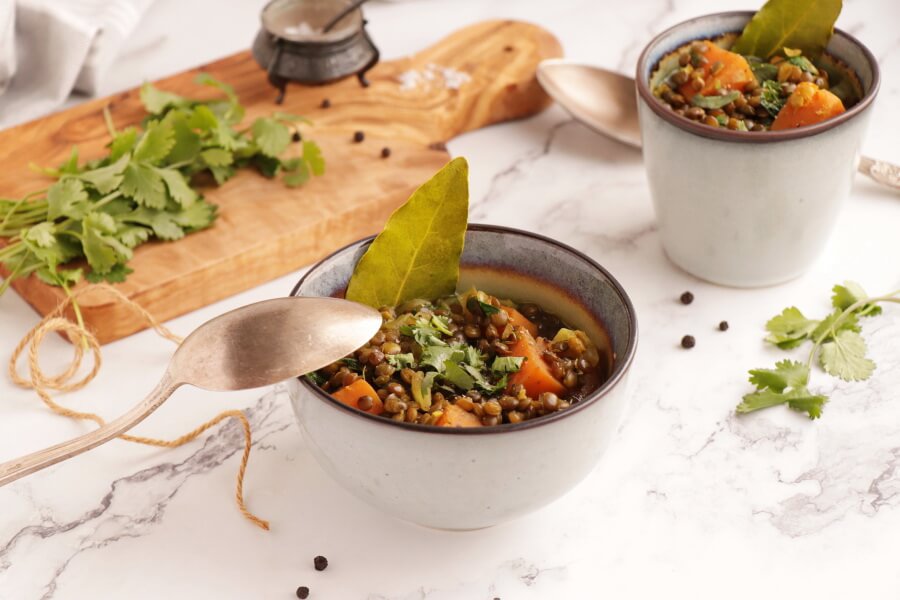 Ingredients for Lentil and Sweet Potato Stew:
2 cups Green Lentils
1 large Sweet potatoes
1 tbsp Olive oil
1 Onion
2 cloves Garlic
6 cups Vegetable broth
2 Bay leaf
½ tsp Turmeric
¼ tsp Cumin
½ tsp Black pepper
½ tsp Sea salt
fresh Cilantro
This Homemade Apple Cider Beef Stew is guaranteed to be popular around your table this coming winter. It's just one of those feel good dinners that warms everyone's stomachs and hearts! Beef stew meat slowly cooked in broth with apple cider, cider vinegar, dried thyme, salt and ground black pepper….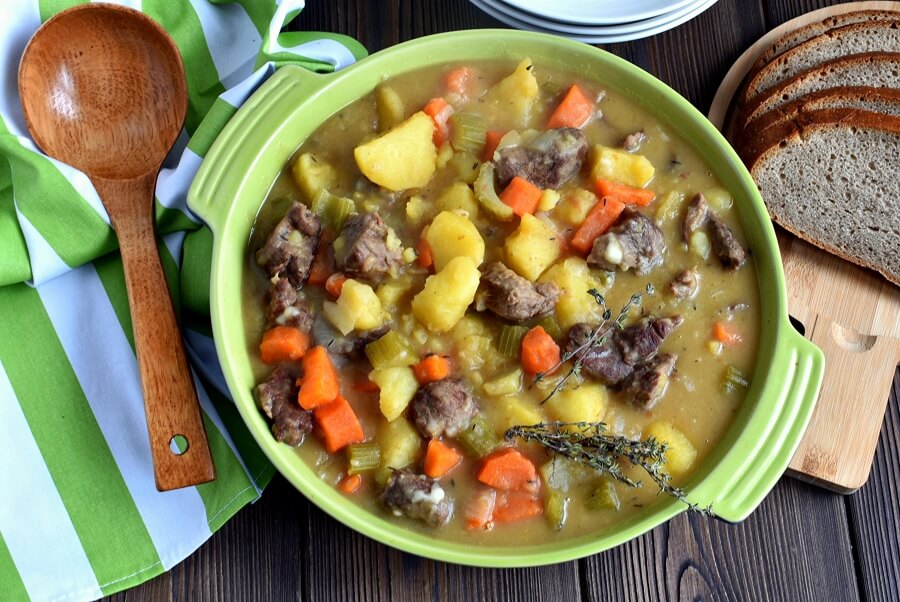 Ingredients for Homemade Apple Cider Beef Stew:
2 pounds Beef
2 tbsp Canola oil
3 cups Apple cider
1 can (14½ ounces) Beef broth
2 tbsp Cider vinegar
1½ tsp Salt
¼ to ½ tsp Dried thyme
¼ tsp Black pepper
3 Potatoes
4 Carrots
3 Celery
2 Onion
¼ cup All-purpose flour
¼ cup Water
sprigs of Fresh thyme
Another Fall recipe to add to the list, this Creamy Pumpkin and Lentil Soup is going to be such a hit in your kitchens. I love a reason to cook and just the fact that pumpkins are so rich in season, I've been experimenting with new ideas. This pumpkin and…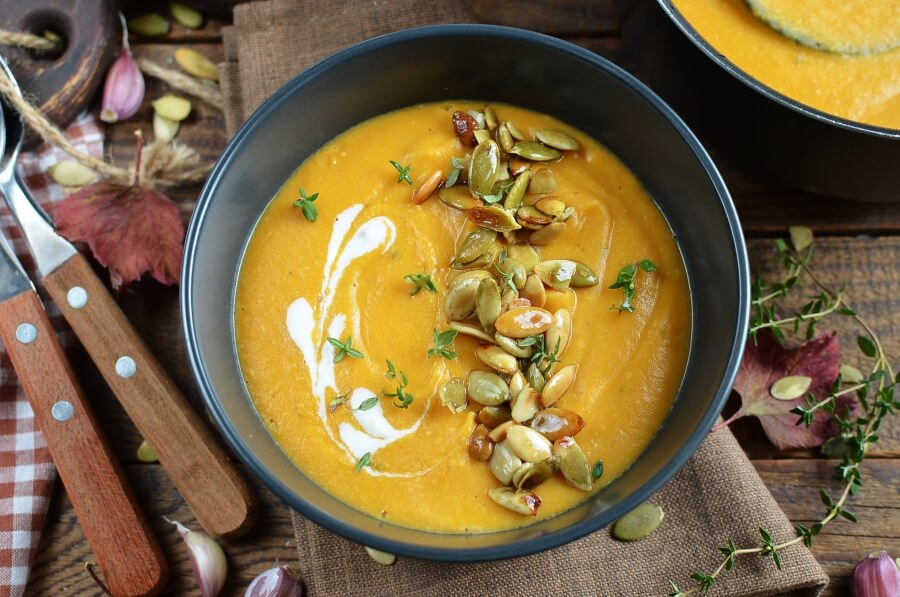 Ingredients for Creamy Pumpkin and Lentil Soup:
1 tbsp plus 1 tsp Olive oil
2 Onion
2 cloves Garlic
800g Pumpkin
100g Lentils
½ small pack Thyme
1l Vegetable stock
pinch Salt
pinch Sugar
50g Crème fraîche
This Gluten Free South West Turkey Stew is one of my top choices to recommend to my health coaching clients as a great high protein dinner that you can feed the whole family with, too. Divine, tenderloin turkey breasts with chili and beans and diced tomatoes for the base sauce…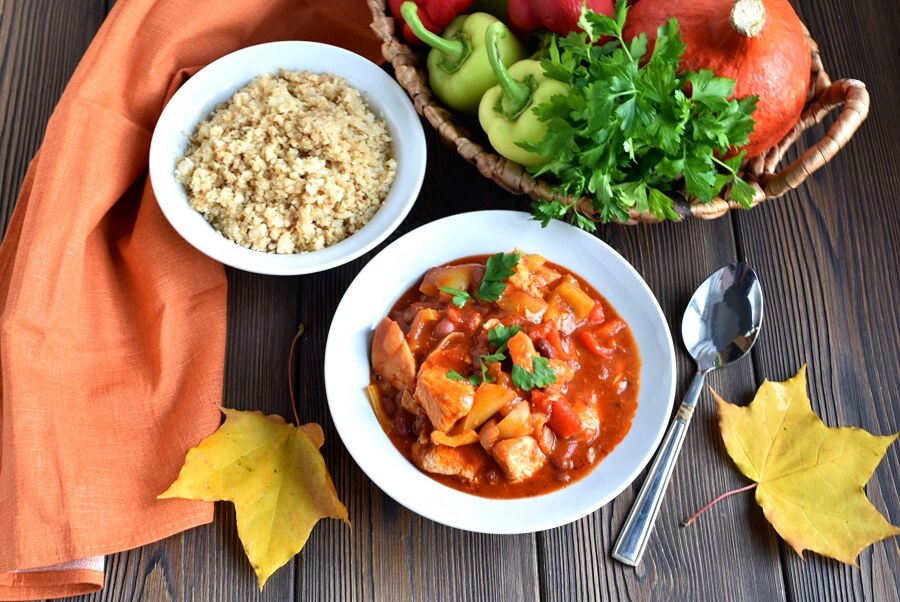 Ingredients for Gluten Free South West Turkey Stew:
1 ½ pounds Turkey breasts
2 tsp Canola oil
1 can (15 ounces) Turkey chili
1 can (14-1/2 ounces) Tomatoes
1 Red bell pepper
1 Green bell pepper
¾ cup Onion
¾ cup Salsa
3 cloves Garlic
1 ½ tsp Chili powder
½ tsp Cumin
¼ tsp Salt
1 tbsp Cilantro
Not as hot as a curry and more chunky than a soup, this Spicy Chicken Stew is mouthwateringly juicy and delicious and you are going to love it. Slow-cook the chicken until it's tender and falling apart, then simmer in a lime and garlic salsa sauce. Serve yours with a…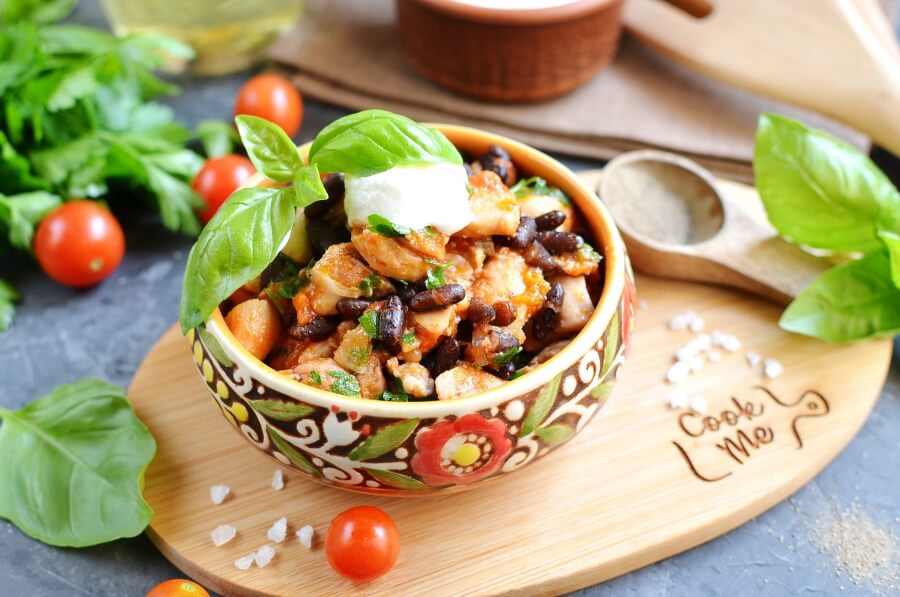 Ingredients for Spicy Chicken Stew:
2 pounds Chicken thighs
2 tsp Garlic
2 tbsp Olive oil
1 can (15 ounces) Chickpeas
1 can (14½ ounces) Tomatoes
1 cup Lime-garlic salsa
1 tsp Cumin
⅓ cup Cilantro
Sour cream