2 (¾-inch thick)

Pork chops

bone-in

4 oz

Mushrooms

fresh, sliced

1/2 cup

White wine

Zinfandel , or as needed

1 tbsp

Parsley

fresh , chopped

1/4 tsp

Black pepper

ground
Gourmet Stuffed Pork Chops
This Gourmet Stuffed Pork Chop recipe is a popular menu choice for when I host dinner parties for my clients. The flavor combination of mushroom and Swiss cheese stuffing simmering in white wine for ages, gives this homemade cuisine an extra special touch of gourmet. I love the 2 hour cook time that fills the home with the most amazing aroma, and your guests will be very impressed too.
I usually serve it with a side of creamy mashed potatoes and a peppercorn sauce to accompany the flavors. Paired with a glass of white wine and a chocolate mousse dessert, this may be one of the simplest gourmet recipes that I know of.
To make Gourmet Stuffed Pork Chops, you will need the following ingredients: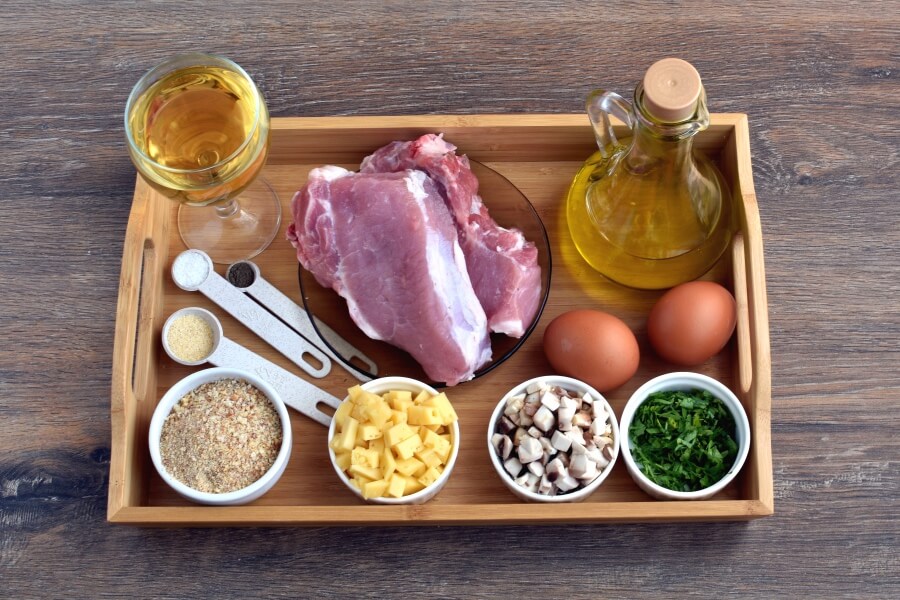 So, how to make Gourmet Stuffed Pork Chops?
Steps to make Gourmet Stuffed Pork Chops
Prepare pork chops for stuffing

2

Prepare the stuffing

2

Stuff the pork chops

2

Prepare the eggs

1

Prepare the bread crumbs

1

Cover the pork chops

2

Cook in a skillet

5

Add the wine

2h

Serve