1 cup

Yellow onions

diced

1 cup

Green bell pepper

diced

1 cup

Cherry tomatoes

halved

1 (15 oz can)

Black beans

drained and rinsed
Mexican Cauliflower Rice Skillet
Mexican Cauliflower Rice Skillet is a fantastic healthy vegan dish with Mexican flavors. As the "rice" is made from cauliflower, it is healthier than the usual rice dishes you might make. As the name suggests cauliflower rice is simply cauliflower which has been chopped into rice-sized pieces. I usually grate mine using a box grater but you could use a food processor if you are short on time. 
Start by sautéing the vegetables for this dish and then add the tomatoes and beans. Once the sauce has cooked, add the cauliflower rice and seasoning. I like to serve this dish topped with that classic Mexican combination of fresh lime, avocado and cilantro. 
To make my version of Mexican Cauliflower Rice Skillet, you will need the following ingredients: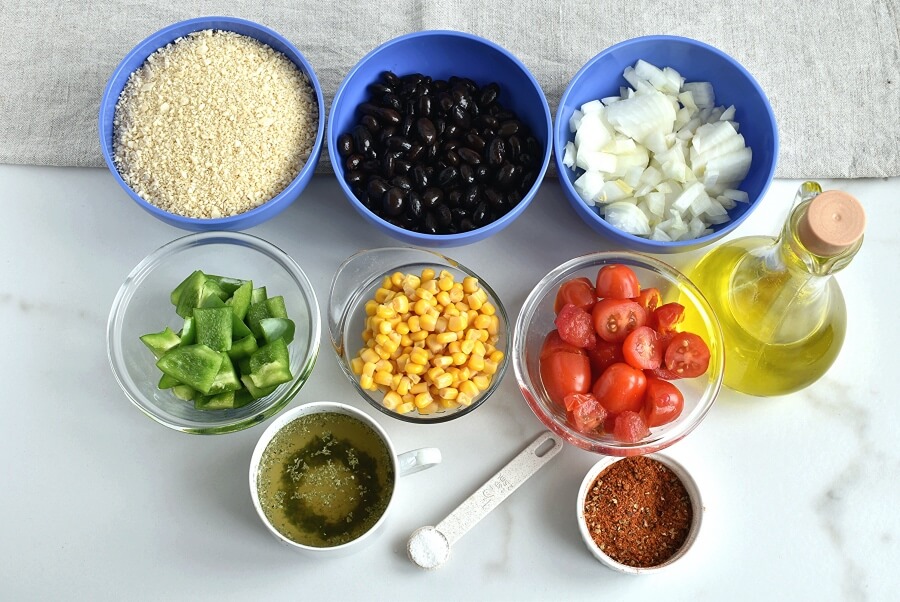 So, how do you make Mexican Cauliflower Rice Skillet?
Steps to make Mexican Cauliflower Rice Skillet
Sauté onion

3

Add green pepper and corn.

7

Stir in tomatoes and beans

10

Add cauliflower rice

5

Serve