For sour cream pastry dough:

1¼ cups

All-purpose flour

unbleached

½ cup

Unsalted butter

cold , cut into small cubes

¼ cup

Sour cream

cold full-fat

2 tsp

Lemon juice

freshly squeezed

For mushroom cheese filling:

1 tbsp

Olive oil

extra virgin

1 lb

Cremini mushrooms

stemmed, and thinly sliced

½ lb

Shiitake mushrooms

stemmed, and thinly sliced

½

Yellow onions

large , finely julienned

2 cloves

Garlic

large, finely minced

4-5 sprigs

Fresh thyme

plus more for garnishing

Black pepper

freshly ground, to taste

1½ oz

Blue cheese

aged or 3 oz aged goat cheese, crumbled

For egg wash:
Shiitake Mushroom Galette
This recipe for Shiitake Mushroom Galette is one of my favorite mushroom recipes. Yes, it takes a bit of extra planning to make and chill the pastry, but it is worth it when you taste the delicious filling with a hint of blue cheese! Yum!
Start by preparing pastry. Next, prepare the mushroom filling and leave it to cool. Assemble the galette by filling the pastry shell with the mushroom mixture. Once the crust is golden brown, remove from the oven and cool before slicing and serving. Garnish with fresh thyme leaves, as desired. This galette tastes great served hot, warm, or even at room temperature.
To make my Shiitake Mushroom Galette, you will need the following ingredients: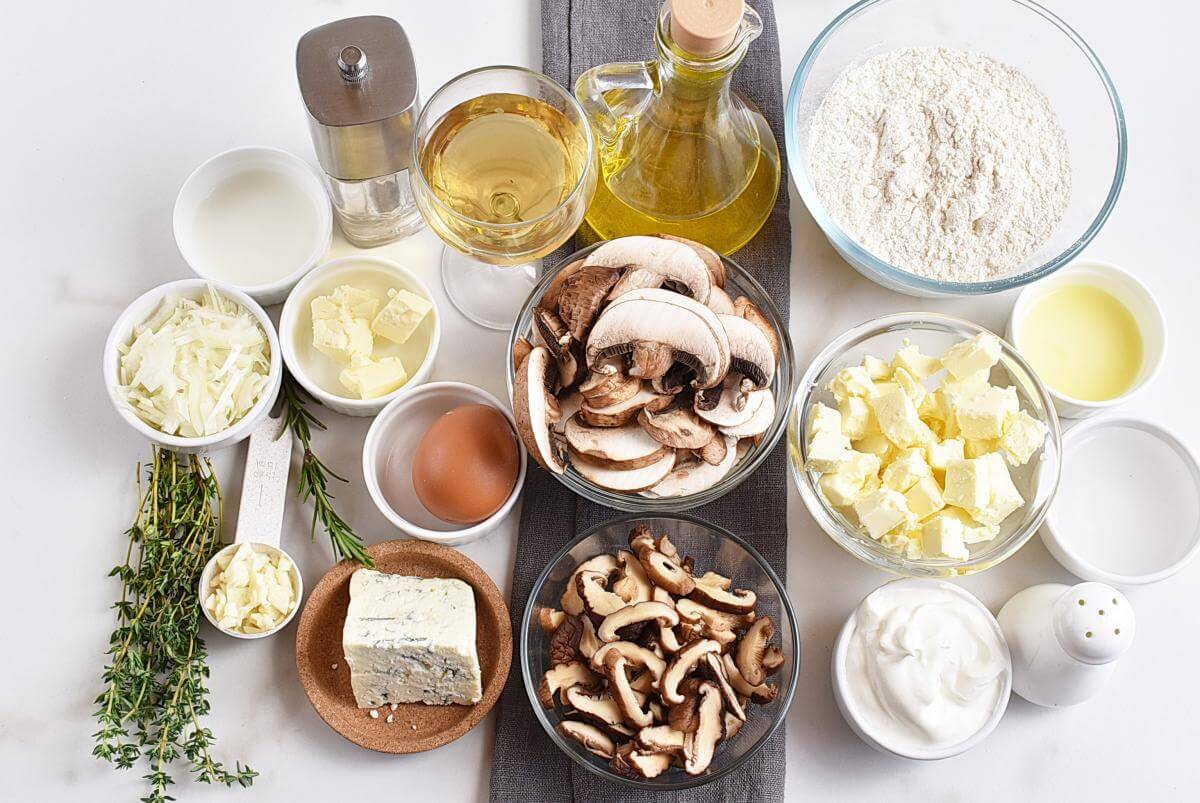 Steps to make Shiitake Mushroom Galette
Combine dry ingredients

3

Mix wet ingredients

2

Make dough

1h

Stir the dough with a spatula until it begins to come together. Transfer the dough to a lightly floured work surface. Press and knead the dough gently with your hands until it comes together. Flatten into a thick disk and cover with plastic wrap. Place in the refrigerator for 1-2 hours, until chilled and firm.

Saute mushrooms

5

Add butter and onion

3

Deglaze pan and season

2

Allow mushroom mixture to cool

Make egg wash

1

Heat oven and prepare baking sheet

5

Prepare pastry

1

Combine blue cheese and mushrooms

1

Fill pastry and seal

2

Bake

45

Cool

Serve