For the crepes

For the topping

2 cups

Strawberries

thinly sliced

1 large

Bananas

about 1 cup

1 tbsp

Grand Marnier

you can substitute with orange juice

9 tbsp

Greek yogurt

vanilla fat-free
Gluten free Strawberry-Banana Crepes
One of my closest friends isn't able to eat gluten so these Gluten-free Strawberry-Banana Crepes are the perfect dish to make when she comes to brunch as they are gluten free and totally delicious so they can be enjoyed by everyone! Crepes of course are French style pancakes and my nod to France in this recipe is a little dash of Grand Marnier, the orange flavored liquor. If you prefer to skip the alcohol at brunch, you can substitute this with orange juice!
It's so easy to make this recipe. Simply blend the crepe ingredients together and cook each crepe individually. I decorate the crepes with a strawberry and banana topping with just a hint of Grand Marnier and I drizzle some yoghurt over the top. My friends love these crepes and I'm sure you will too!
To make the Gluten-free Strawberry-Banana Crepes, you will need the following ingredients: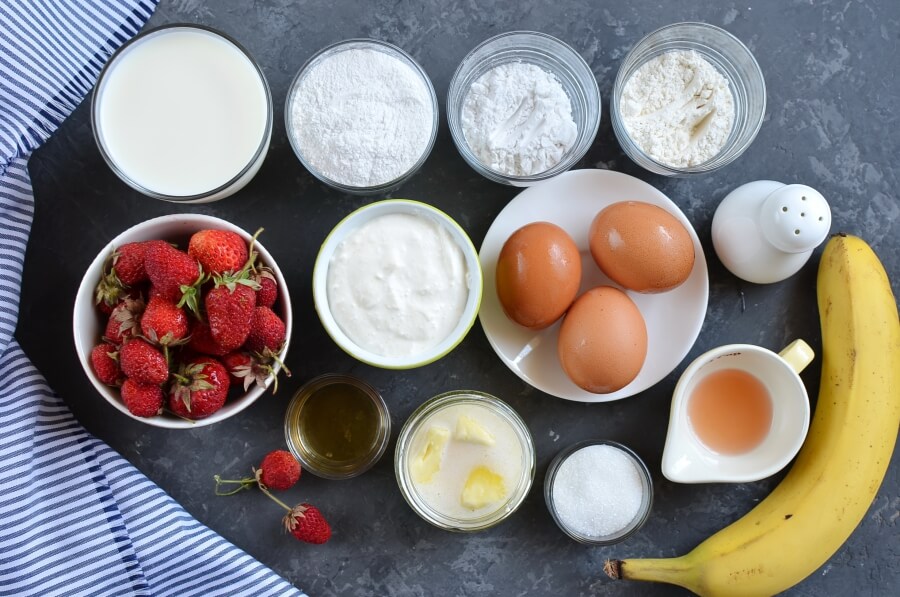 So, how do you make Gluten-free Strawberry-Banana Crepes?
Steps to make Gluten free Strawberry-Banana Crepes
Combine the dry ingredients

2

Blend the milk, butter, eggs and vanilla

1

Add the flour mix

1

Prepare a pan

1

Cook a crepe

1

Flip the crepe

1

Repeat

15

Make the topping

2

Serve

5