For the crust:

2½ cups

All-purpose flour

12 tbsp (1½ sticks)

Unsalted butter

½-inch-diced, cold

2 extra-large

Egg yolks

cold

For the filling:

2 ½ pounds firm medium

Tomatoes

cored and sliced ¼-inch thick

1 cup

Parsley

whole fresh parsley leaves, lightly packed

½ cup

Basil

coarsely chopped fresh leaves, lightly packed

¾ pound

Gruyère cheese

grated

½ cup plus 2 tbsp

Parmesan cheese

freshly grated
Tomato Tart
Delicious and cheesy Tomato Tart that has a flaky crust on the outside and a soft tomato center on the inside. Made from sliced tomatoes, fresh parsley and basil leaves, garlic, thyme, dijon mustard and topped with sprinkles of grated and melted Parmesan and Gruyere cheese.
Delicious for a lunchtime snack and keeps well for 2-3 days in the fridge.
To make Tomato Tart, you will need the following ingredients: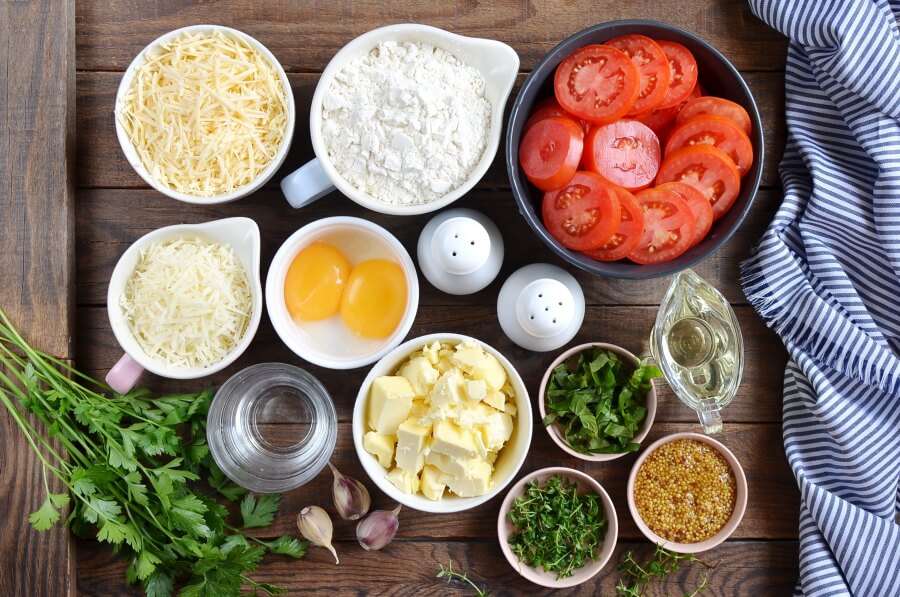 So, how to make Tomato Tart?
Steps to make Tomato Tart
Prepare crust

2

Add egg yolks

2

Add ice water

2

Refrigerate

30

Preheat oven and prepare baking sheet

10

Preheat the oven to 450 °F and line a baking sheet with parchment paper.

Prepare seasoning

2

Add oil

3

Season tomatoes

2

Prepare pastry

5

Bake pastry

10

Bake in preheated oven for 15 minutes then remove the top sheet pan or baking beans, if using. Using a fork, lightly pierce the pastry, evenly, all over and place back in the oven to bake for a further 8-10 minutes, until lightly browned. If any spots in the pastry begin to bubble while baking, pierce through with the fork.

Cool

15

Remove from heat and allow to cool for 15 minutes.

Reheat oven

10

Lower the oven to 375 °F.

Add mustard and cheese

10

Add tomatoes

3

Top with cheese

2

Bake

30

Serve

15