For apple bundt cake:

1 ¼ cups

Vegetable oil

neutral

3

Large eggs

at room temperature

3 cups Honeycrisp

Apples

peeled, cored and chopped

For caramel drizzle:
Apple Bundt Cake
Perfectly moist and spiced, this Apple Bundt Cake is so cozy and comforting. Packed full of apples and pecans, it's a sure crowd-pleaser, especially during the fall months. Step it up with an easy homemade caramel drizzle (recipe included), and enjoy!
This apple cake is easy to mix up and uses simple ingredients. To start, combine the dry ingredients in a medium bowl. Next, whisk together the wet ingredients. Then add the dry ingredients to the wet ingredients in 3 intervals, stirring until just combined. Fold in the apples and pecans and spoon the batter into the pre-greased bundt pan. Bake for about 50-65 minutes until a skewer inserted in the center comes out clean. Allow the cake to cool in the pan for 15-20 minutes before inverting it on a wire cooling rack. Meanwhile, prepare the caramel sauce. Drizzle the caramel over the warm cake. The cake tastes even better when made a day in advance. Leave it to cool completely, then cover and store in a cool corner of the kitchen.
To make these Apple Bundt Cake, you will need the following ingredients: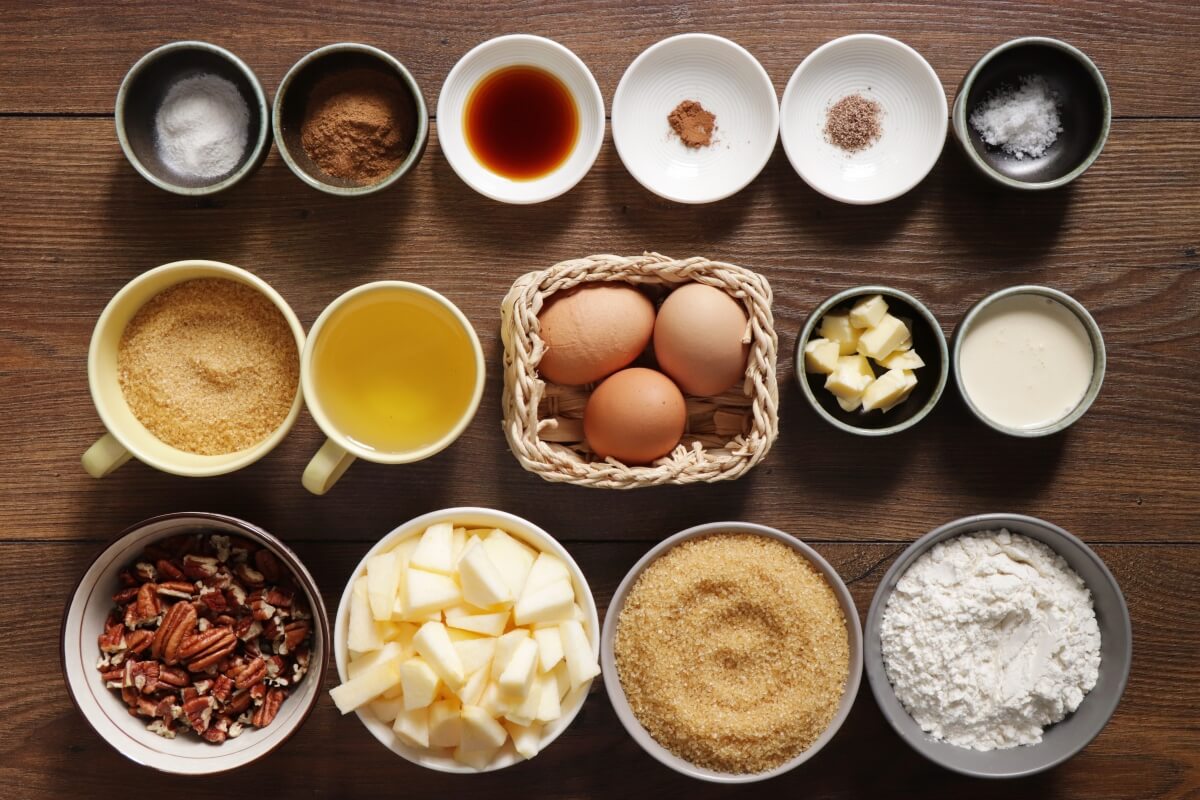 Steps to make Apple Bundt Cake
Preheat oven and prepare baking pan

Combine dry ingredients

1

Combine wet ingredients

3

Combine dry and wet ingredients

2

Fold in apples and pecans

1

Transfer batter to bundt pan

1

Bake

55

Prepare caramel sauce

5

In a small saucepan over medium heat, melt 2 tablespoons butter, ½ cup brown sugar, and ¼ cup heavy cream. Bring to a boil, stirring constantly until all the sugar has dissolved. Remove from the heat and stir in ½ teaspoon vanilla extract. Drizzle the prepared caramel sauce over the warm cake. Let the cake cool completely before serving.

Serve