For the Tofu Feta:

1 pound

Tofu

extra-firm, drained and pressed, cubed , or use super-firm tofu and skip the pressing

For the salad:

1 dry pint

Cherry tomatoes

or grape tomatoes, halved

For the dressing:
Greek Millet with Tofu Feta
Greek Millet with Tofu Feta is vegan and gluten free, so obviously it goes as on of my top choices for a great lunch time meal. Have you ever heard if tofu feta? It's awesome! Made from extra firm tofu with coconut vinegar, dried oregano and sea salt, giving you the best vegan feta "cheese." Toss this with fluffy millet, cherry tomatoes, chopped cucumber, sliced red onion, kalamata olives and Greek vinaigrette for the dressing. 
To make Greek Millet with Tofu Feta, you will need the following ingredients: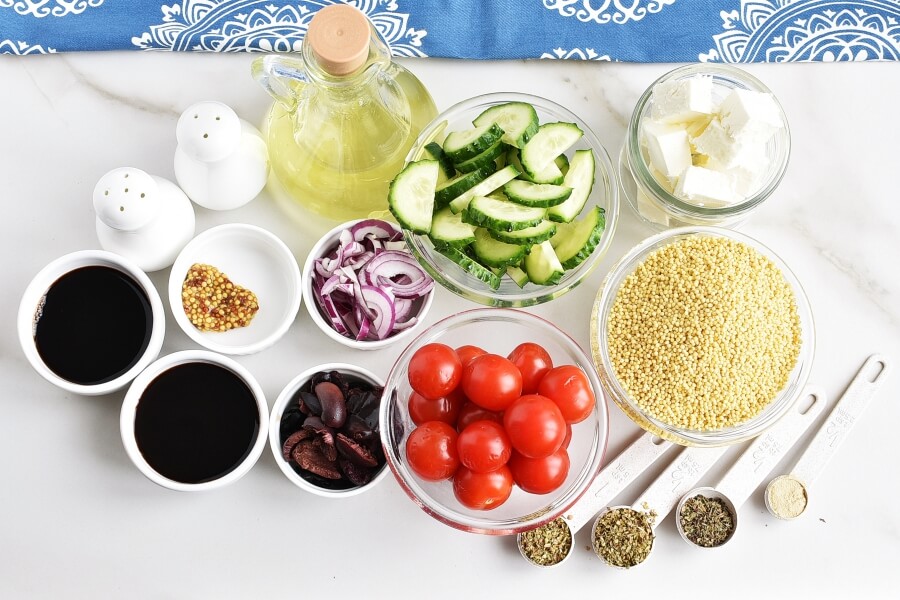 Steps to make Greek Millet with Tofu Feta
Combine tofu marinade

1

Marinate

2h

Prepare millet

20

Over a stove, in a medium pot of 2 cups of boiling water, add 1 cup of millet then cover, reduce heat and simmer for about 20 minutes until all the water has been absorbed. If cooking the millet in an Instant Pot, on high setting, combine 1 cup millet and 1 ¾ cups of water, cover, and cook for 10 minutes then release the pressure naturally. Transfer the cooked millet to a large salad bowl to cool completely.

Add salad ingredients

2

Prepare dressing

2

In a small bowl, whisk ¼ cup of red wine vinegar, ¼ cup of olive oil, 1 teaspoon of Dijon mustard, 1 teaspoon of garlic powder, 1 teaspoon of oregano, 1 teaspoon of basil, and salt and pepper until completely combined. Pour over the salad with the cooked millet and toss to coat and combine everything.

Serve