For peach filling:

1 ½ cups

Peaches

sliced, fresh or frozen

For topping:
Peach Cobbler for Two
Looking for an easy small-batch dessert? This delicious Peach Cobbler for Two fits the bill. It uses pantry ingredients, and the batter comes together in one bowl. The batter gets its flavor from butter and sugar, but I like to add in a little orange zest to bump up the flavor some more. For this recipe, I use summer-ripe peaches. If fresh peaches are out of season, use peeled and sliced frozen peaches instead. If using frozen peaches, do not thaw them.
Start with the filling. In a saucepan, whisk together the brown sugar, cornstarch, and water until smooth. Add the sliced peaches and bring to a boil. Cook, stirring, for 2 minutes. Then reduce the heat to low and stir in the lemon juice and butter. Once the butter is melted, remove the peach filling from the heat and transfer to a 2-cup baking dish. Now, make the topping. The ingredients are simple: just all-purpose flour, sugar, baking powder, milk, butter, orange zest, and a pinch of salt. Dollop the batter over the peach filling and bake until the peaches bubble up over the dish and the topping is golden brown. Serve on its own or with a scoop of ice cream.
To make the Peach Cobbler for Two, you will need the following ingredients: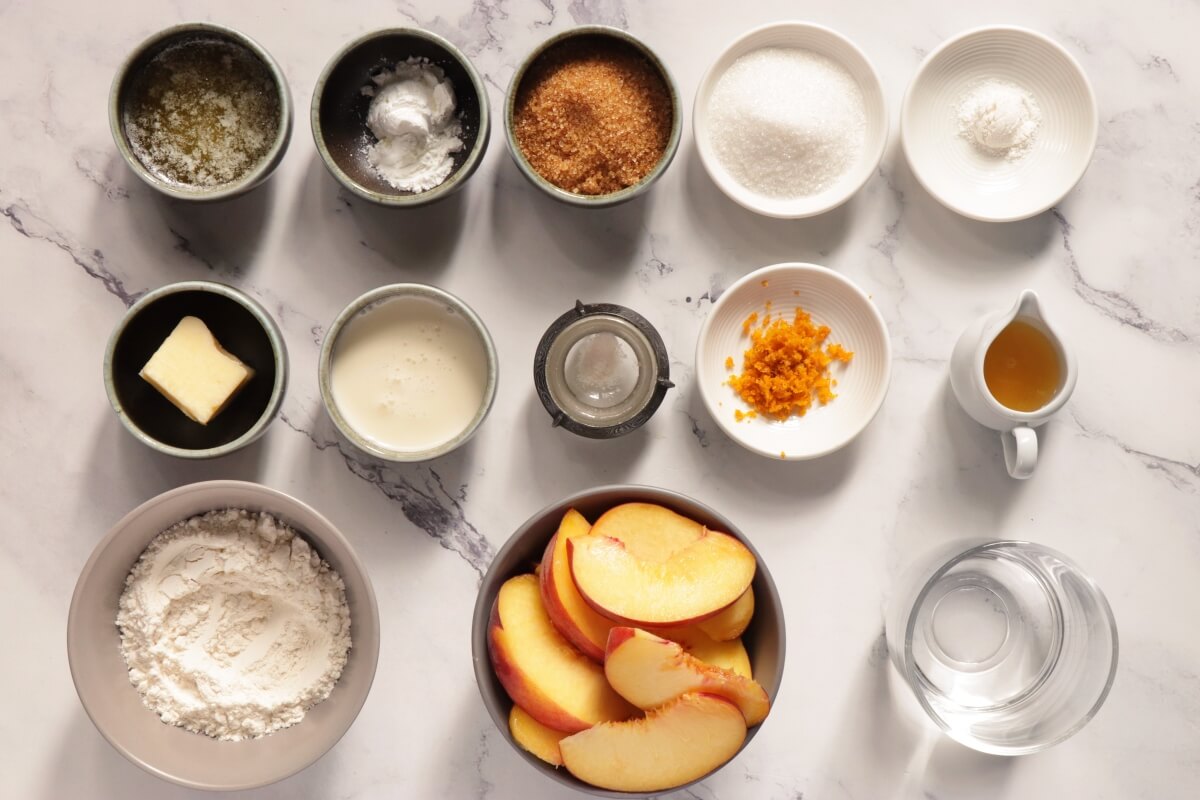 Steps to make Peach Cobbler for Two
Preheat oven

Preheat the oven to 400 °F.

Combine sugar, cornstarch and water

1

Add peaches

3

Add butter and lemon juice

1

Transfer to baking dish

1

Make topping: Combine dry ingredients

1

Add milk, butter and orange zest

1

Dollop topping over peaches

1

Bake

25

Serve