For the strawberry filling

For the shortcake topping

1 ½ cup

All-purpose flour

½ cup

Greek yogurt

honey vanilla

½ tsp

Vanilla extract

pure

For the orange whipped cream

1 cup

Heavy whipping cream
Strawberry Shortcake Cobbler
I love this Strawberry Shortcake Cobbler. Not only does it taste fantastic, it's quicker and easier than making a pie (it tastes better than pie too in my opinion!). The beauty of a cobbler is that there is no bottom crust – just a crisp shortbread biscuity topping with a fruity filling underneath. I make my cobbler in little ramekins so I end up with 6 perfect individual servings.
My cobbler is a take on strawberry shortcake and it has three key parts – a strawberry filling which I make with fresh strawberries, some sugar, orange zest and tapioca flour. A shortcake topping made with flour, sugar, butter and some other key ingredients. I always serve whipped cream with a hint of orange on top of my cobbler too!
To make Strawberry Shortcake Cobbler, you will need the following ingredients: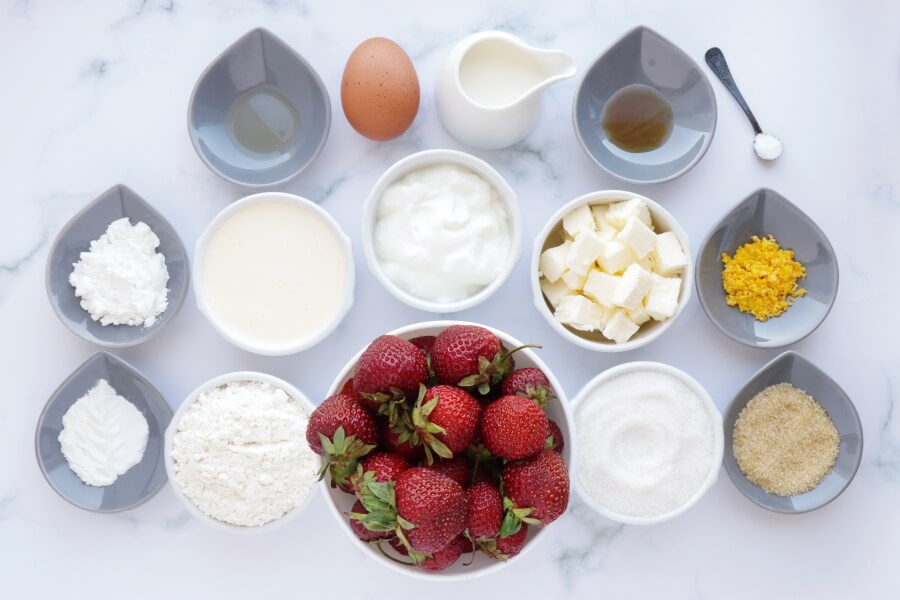 So, how do you make Strawberry Shortcake Cobbler?
Steps to make Strawberry Shortcake Cobbler
Heat the oven, prepare ramekins and chill a mixing bowl and whisk

5

Prepare the strawberries

5

Add zest, sugar, salt and tapioca flour

2

Mix dry topping ingredients together

2

Combine wet topping ingredients

2

Rub the butter into the flour mixture

2

Mix wet and dry ingredients together

2

Assemble the cobblers

2

Sprinkle with sugar

1

Bake

25

Cool

30

Prepare the orange whipped cream

2

Serve