For filling:

6-8 cups

Peaches

peeled and sliced fresh peaches, about 7-8 medium peaches

1 tbsp

Lemon zest

fresh grated

For topping:

¾ stick

Salted butter

cold, cubed

⅓ cup

Buttermilk

cold, or more if needed

Optional for serving:
Peach Blueberry Cobbler
This Southern-style Peach Blueberry Cobbler is sweet, delicious, and maybe the best reason to turn on the oven in the summer. Loaded with fresh juicy peaches and blueberries and topped with crisp, buttery biscuit topping, this dessert is so simple to make from scratch. I love using lemon zest in this recipe. It adds a great lemon flavor and brightness and balances out the sweetness of the fruit filling.
Start by mixing the fresh blueberries and peach slices with a little sugar, lemon juice and zest, and cornstarch. Let the mixture sit for at least 10 minutes while you proceed with the recipe. Prepare the dough: Combine the flour, sugar, baking powder, and a pinch of salt in a medium bowl. Cut in the cold butter until it's in a small pea-size. Drizzle in the cold buttermilk just until the dough comes together. If the dough seems too dry, add in a little more buttermilk. Transfer the fruit mixture to a greased cast iron skillet or a baking dish. Drop the biscuit-sized dollops of the dough on top of the fruit filling and sprinkle a little coarse sugar over the topping. Bake the fruit cobbler until the top is golden brown and the filling is bubbly, about 25-30 minutes. Let the cobbler cool for 5-10 minutes before serving, and enjoy it warm with a scoop of ice cream.
To make the Peach Blueberry Cobbler, you will need the following ingredients: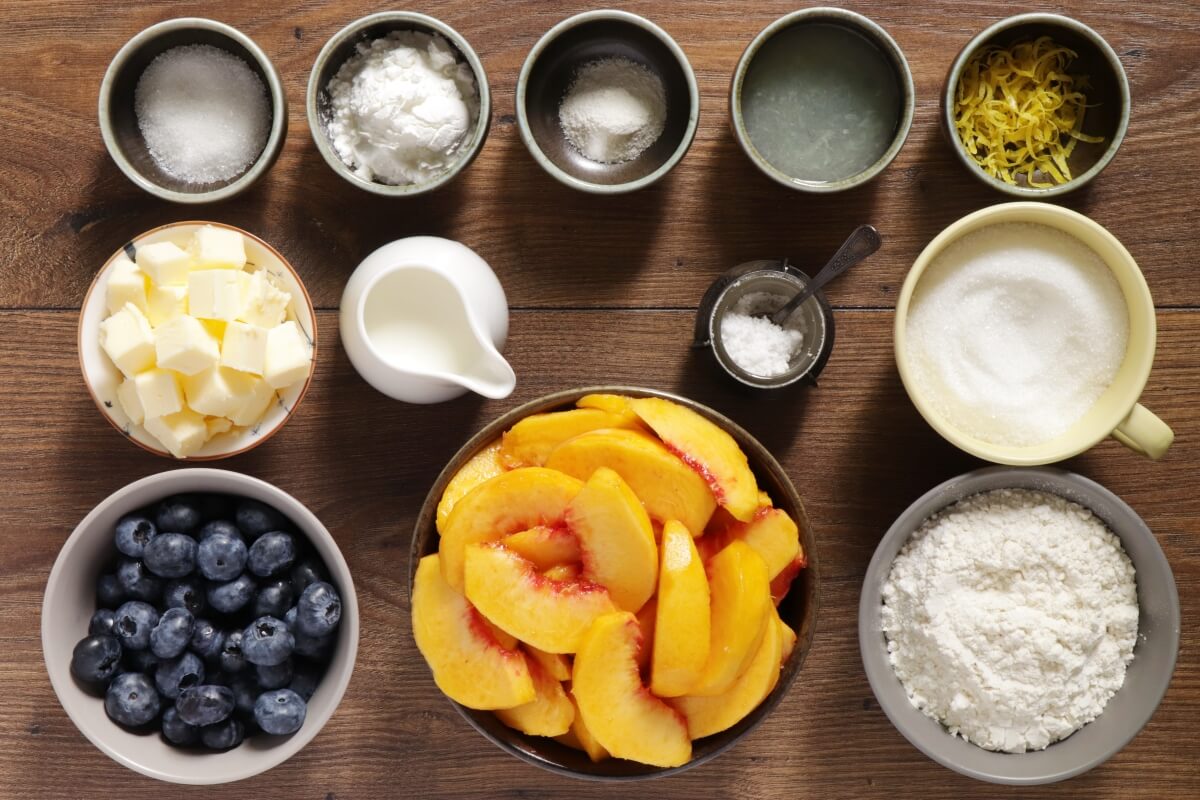 Steps to make Peach Blueberry Cobbler
Heat oven

Preheat the oven to 425 °F.

Prepare filling

10

Combine dry ingredients

1

Cut in butter

1

Stir in buttermilk

1

Transfer fruit filling to baking dish

1

Top fruit filling with dough

1

Bake

25

Serve