1/2

Red cabbage

cut into slices, 6 cups

2 tbsp

Olive oil

Extra Virgin

1

Onion

peeled and chopped

1 small

Potatoes

peeled and diced

4 cups

Vegetable stock

or water

1 tsp

Sea salt

or more to taste
Red Cabbage Soup
In this Red Cabbage Soup the red cabbage helps to define the word health. Rich in vitamins and antioxidants, this beautiful lilac soup will beautify your table settings as well as tantalize your taste buds. Blended with almond milk to produce a creamy soup that I know you will love. Enjoy served hot with crispy French baguette or some crunchy croutons.
To make Red Cabbage Soup, you will need the following ingredients: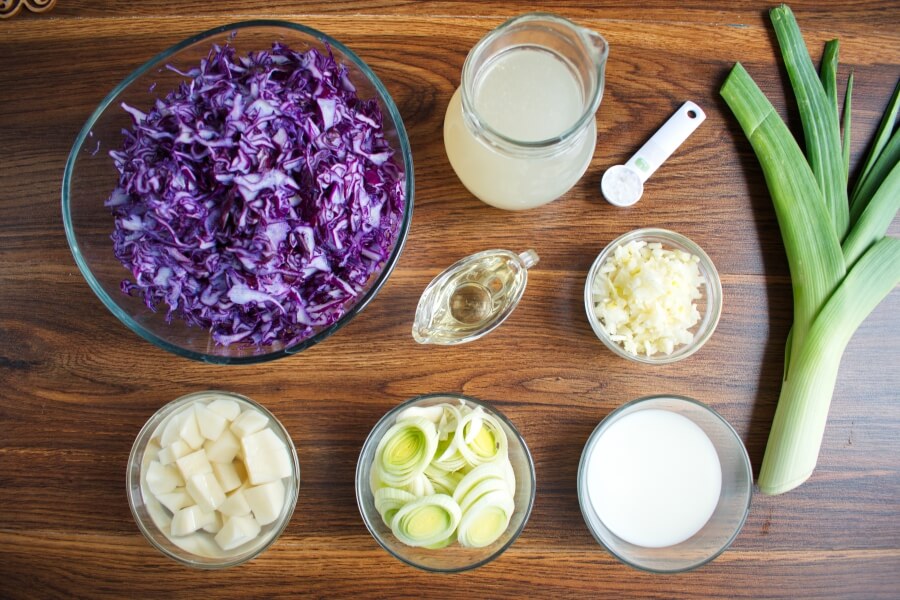 So, how to make Red Cabbage Soup?
Steps to make Red Cabbage Soup
Sauté leeks and onions

3

Add potatoes

10

Add cabbage

10

Boil soup

5

Add almond milk

1

Blend

1

Serve