4 fresh

Salmon steaks

cut ¾-inch thick (you can substitute with frozen fish, thawed before cooking)

4

Apricots

pitted, or 8 dried apricot halves

1 ½ tsp

Oregano

chopped fresh or ½ tsp dried oregano, crushed

⅛ tsp

Salt

plus pinch, divided

few dashes bottled

Hot pepper sauce

plus 1-2 tsp, divided

2 sprigs

Oregano

for garnish
Salmon with Apricot Sauce
Fruity Salmon with Apricot Sauce is a healthy, simple and delicious meal, perfect for midweek. I think that fruity flavors pair so well with salmon and I think you'll love how great this apricot glaze tastes too! I love to use salmon for this dish, but you could use halibut or another firm fish instead of salmon if you prefer.
To make the sauce, you simply bring the apricot nectar, preserves, scallion, oregano and some salt to a boil. When it reduces, add the apricots, and a few dashes of hot pepper sauce. Add some grilled salmon and there you have it! This delicious meal is ready in 30 minutes and tastes great served with steamed greens and some brown rice.
To make Salmon with Apricot Sauce, you will need the following ingredients: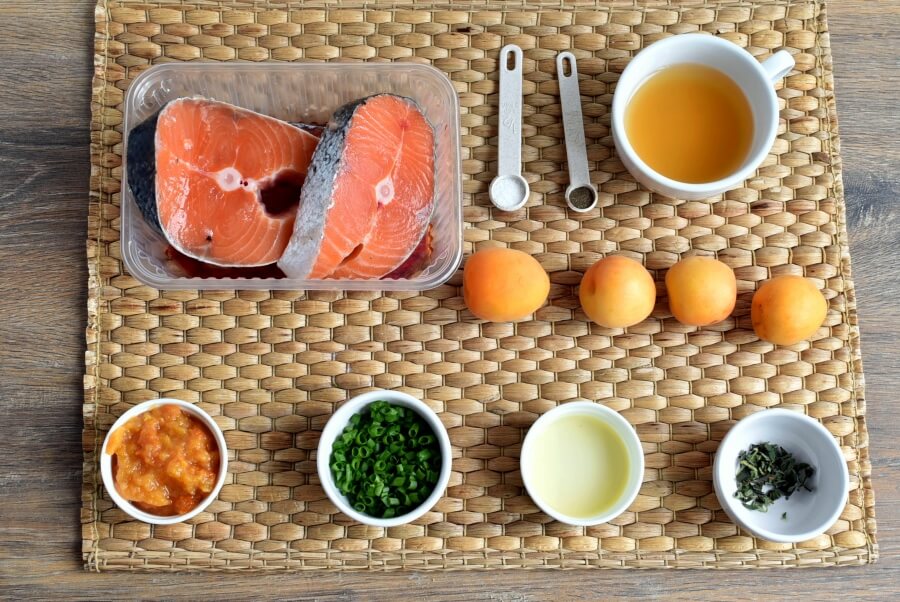 So, how do you make Salmon with Apricot Sauce?
Steps to make Salmon with Apricot Sauce
Prepare the fish

3

Chop apricots

2

Make the sauce

2

Reduce the sauce

8

Reserve some sauce

1

Add apricots and hot sauce

2

Heat the grill

2

Make a coating for the fish

2

Grill the fish

8

Serve