For spicy salmon:

2

Skin-on salmon fillet

room temperature

For serving:

For salsa salad:

1

Red onion

finely chopped

1

Avocado

pitted, peeled and finely chopped

1

Red pepper

deseeded and finely chopped

1

Red chili

halved, deseeded and chopped

½ cup

Cilantro

finely chopped
Salmon with Corn and Pepper Salsa
This Salmon with Corn and Pepper Salsa is a delicious comfort food that's also really healthy. The recipe uses good-for-you ingredients, like salmon, avocado, sweet corn, bell pepper, red onion, and chili. Plus, it takes less than 30 minutes to make. It's cozy, a little spicy, and packed with veggies.
To cook the salmon, rub the fillets with spice rub and set aside while you boil the corn. Cool the corn slightly and remove the kernels from the cooked ear of corn. Place the kernels in a salad bowl. Add in the lime juice and zest and stir in the remaining ingredients for salsa. Finally, heat a pan and cook the salmon for 2 minutes per side. Serve the salmon with the prepared salsa and extra lime wedges for squeezing over.
This recipe is a brilliant way to enjoy salmon – pan-seared with crispy skin and flaky flesh – and, combined with zingy salsa salad, makes the perfect salmon dinner for two. Enjoy!
To make the Salmon with Corn and Pepper Salsa, you will need the following ingredients: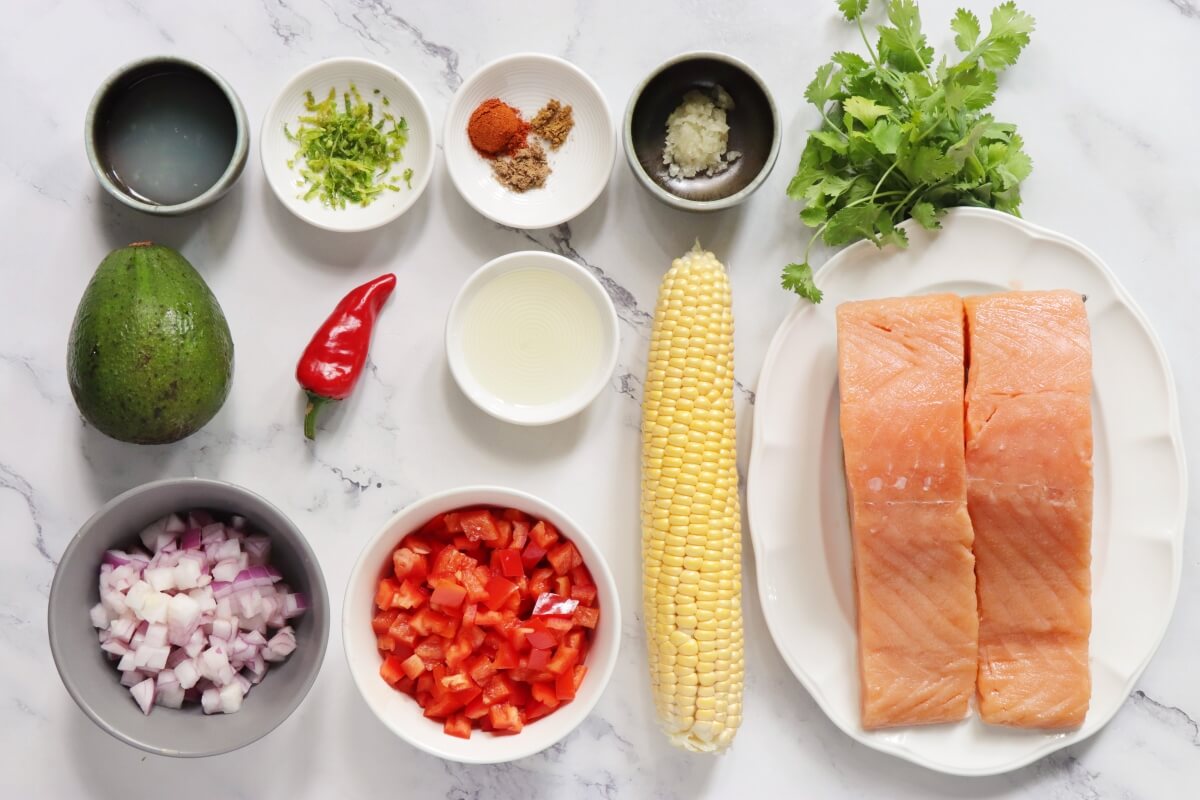 Steps to make Salmon with Corn and Pepper Salsa
Boil corn

8

Make spice rub

1

Rub salmon

1

Cut off kernels

1

Prepare salsa salad

1

Cook salmon

16

Heat 2 tablespoons of olive oil in a large skillet over medium-high heat. Add the fish fillets skin-side down. Use a fish spatula to press the top of the fillets down so that the bottom side makes contact with the skillet, about 30 seconds. Cook, without moving, until golden and crisp, about 2 minutes. Carefully flip the fillets and continue cooking until done but still a little pink in the center, 2 minutes more. Transfer to a wire rack and let rest for about 10 minutes.

Serve