1/4 cup

Mayonnaise

reduced-fat

2 tbsp

Yogurt

reduced-fat plain

1-1/2 cups

Turkey breasts

cubed, cooked

1/4 cup

Celery

thinly sliced

2 tbsp

Dried apricots

chopped

2 tbsp

Cashews

chopped unsalted

8 slices

Bread

pumpernickel
Cashew Apricots Turkey Salad Sandwiches
Cashew Apricots Turkey Salad Sandwiches are the only way to use up turkey leftovers in my opinion! It has become a tradition in my house to rustle up a batch of these sandwiches the day after Thanksgiving. It's a perfect recipe for a day like that when no-one feels like cooking!
This recipe combines turkey with fresh, crunchy celery, delicious cashew nuts and sweet dried apricots for a special sandwich filling. I use a heavy, rye-based pumpernickel bread to make these sandwiches but you could use other bread if you prefer – fresh, crusty sourdough would taste great too! 
To make Cashew Turkey Salad Sandwiches, you will need the following ingredients: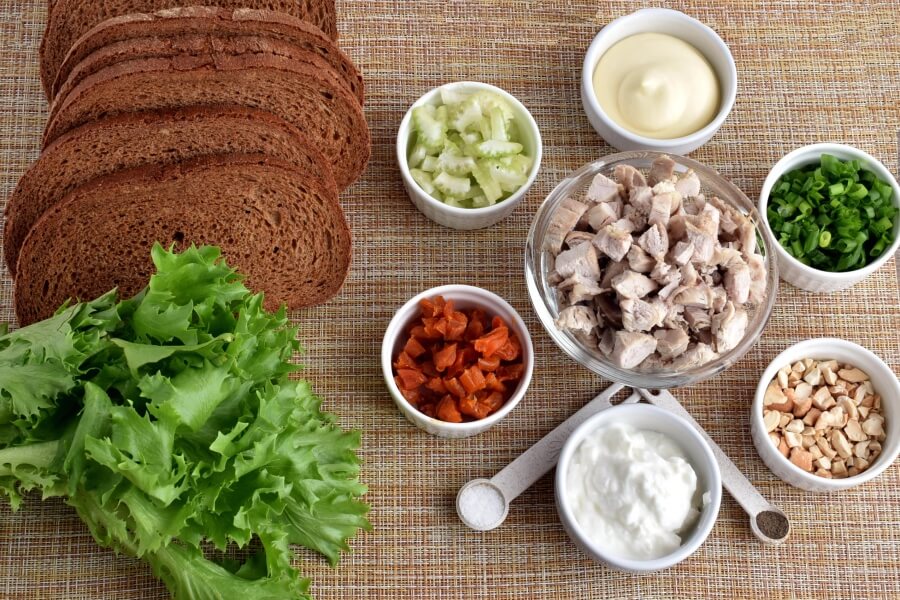 So, how do you make Cashew Turkey Salad Sandwiches?
Steps to make Cashew Apricots Turkey Salad Sandwiches
Prepare the dressing

2

Add turkey, celery, apricots and cashews

3

5

Serve