1

Leek

small, finely diced

2 cups

Vegetable broth

warm

For the garnish

1 tbsp

Mixed seeds

poppy, sunflower and pumpkin seeds
Directions
This bright pink Beet Detox Soup is a delicious and healthy soup which is packed full of goodness. The soup gets its pink color from beet roots which are a superfood. Beets are low fat and are packed with minerals, vitamins and antioxidants making them unbeetable in my book (get it?!)
To make this soup, I start by boiling beet roots until they are tender. While the beets are cooking, I fry some onions, garlic, leek, and carrot. Then I add all the cooked ingredients to a food processor with vegetable broth. I blend the mix until it is smooth and I serve it immediately with a coconut milk and mixed seed garnish. Yum!
To make this Beet Detox Soup, you will need the following ingredients: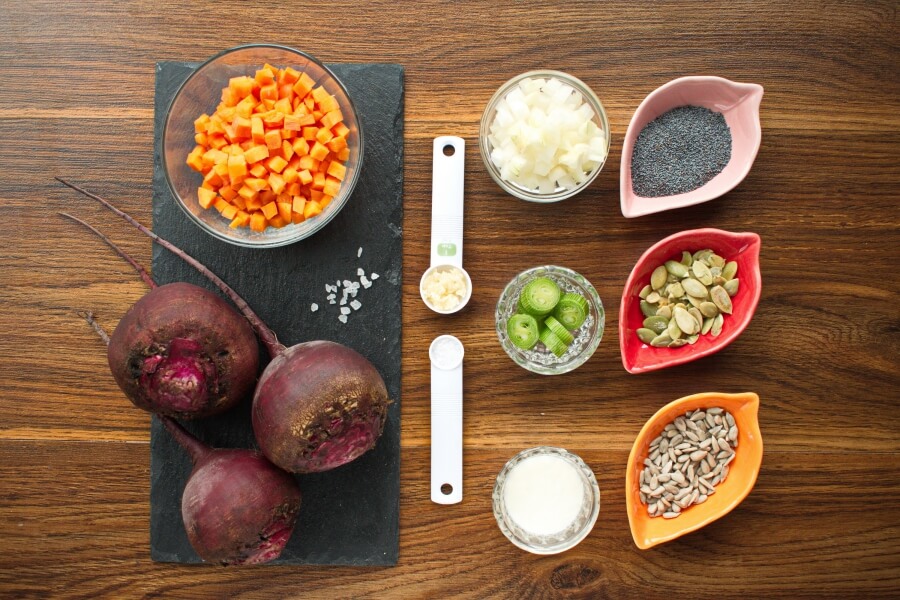 So, how do you make Beet Detox Soup?

This video may vary from the original cook.me recipe
Steps
| | |
| --- | --- |
| 1h | Boil the beet roots |
| 7 | Fry onions, garlic, leek, and carrot |
| 5 | Peel the beet roots |
| 5 | Blend |
| | Serve |