2

Yellow onions

medium , quartered and thinly sliced crosswise

2 tbsp

Olive oil

plus 2 tsp , extra-virgin, divided

2 tbsp green Thai

Curry paste

5 cups

Vegetable broth

store-bought or homemade

8 cups

Fresh spinach

gently packed , coarsely chopped, tough stems trimmed, divided

2½ cups

Mushrooms

oyster or shiitake , trimmed and cut into ¼-inch strips

2 cloves

Garlic

large , chopped

1½ cups

Green beans

1-inch pieces trimmed

1 cup

Broccoli

thinly sliced peeled stems

1 tbsp

Lemongrass

finely chopped

1 cup

Cilantro

chopped fresh

1

Serrano chili

finely chopped

2 tbsp

Lemon juice

fresh , or more to taste
Green Curry Soup
This Green Curry Soup is full of flavor and nutritious ingredients. It makes a great filling and wholesome lunch. Make a batch at the weekend and have this green goodness in a bowl all week!
There are quite a few steps in this recipe – start by cooking onions in a pan. In stages, add curry paste, broth and various vegetables including spinach, shiitake mushrooms, garlic, green beans and broccoli stems. Serve with lemon juice in large bowls.
To make the Green Curry Soup, you will need the following ingredients: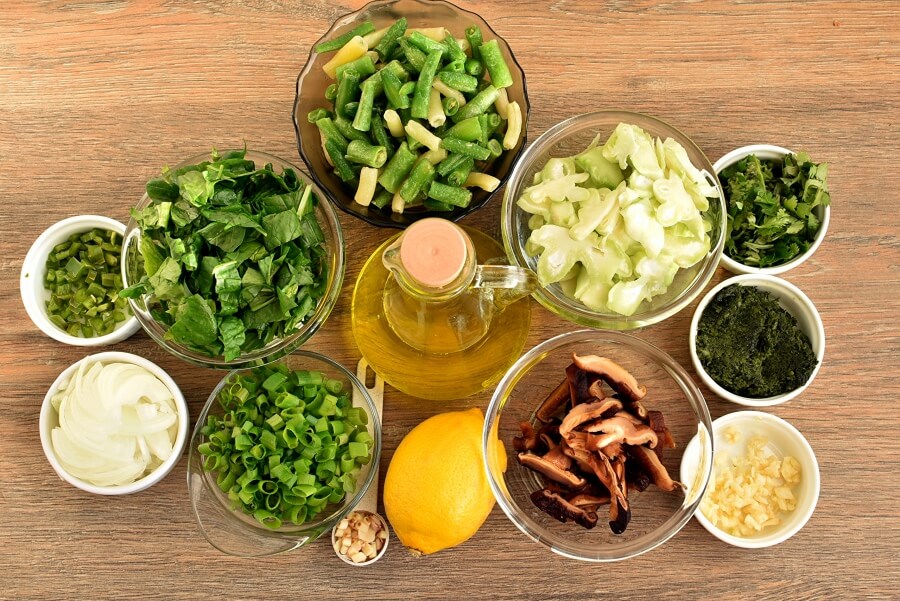 So, how do you make Green Curry Soup?
Steps to make Green Curry Soup
Cook the onions

8

Add curry paste

3

Pour in broth

3

Blend spinach with water

2

Cook garlic and mushrooms

5

Add the mushrooms and green beans to the pot

5

Add broccoli stems, scallions and lemongrass

3

Add spinach, cilantro and serrano

1

Serve