For the coffee cake

For the crumb topping

For the glaze
Peach Cobbler Coffee Cake
I love this Peach Cobbler Coffee Cake! It's my "here comes Fall" recipe. While I love the long hot, summer days, Fall is definitely my favorite season. I adore going for walks in the woods when the leaves are changing color. And I'm always happiest when it gets cold enough to wear scarves and jumpers.
It's the hint of cinnamon that makes this feel like a special cake for that early fall time of year. I make a simple sponge mix to start which I fold peaches through and add a crumble on top. While the cake is cooking, I make a cinnamon flavored glaze and when the cake has cooled, I drizzle the glaze over the cake and serve. 
To make Peach Cobbler Coffee Cake, you will need the following ingredients: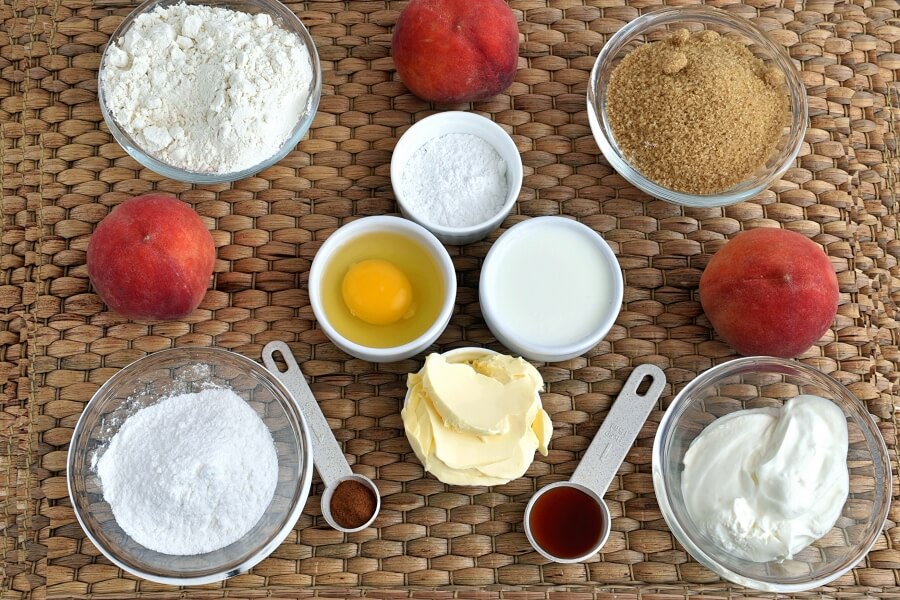 So, how to make Peach Cobbler Coffee Cake?
Steps to make Peach Cobbler Coffee Cake
Heat the oven and prepare a baking pan

5

Mix dry ingredients

1

Combine the wet ingredients

2

Combine

1

Fold in the peaches

1

Make the crumble topping

2

Top the batter with the crumble

1

Bake

50

Make the glaze

1

Cool and glaze

1

Serve