Raisin and Walnut Cake
Nutty and wholesome, this tasty Raisin and Walnut Cake is the perfect tea-time treat!
You may have noticed by now that I prefer my cakes to be packed with fruit and nuts instead of chocolate. I keep a very healthy diet but I believe in treating myself and I definitely have a sweet tooth. So when I'm baking – which I do a lot of! – I just try to keep things on the healthier side, or at least convince myself that's what I'm doing!
Cakes like this one fit the bill – deliciously soft and light, fragrant with cinnamon and packed with crunchy walnut and juicy raisin surprises. I love to have this with a cup of coffee in the morning or during that afternoon sugar dip when you need a tasty pick-me-up to get you through to the end of the day!
To make Raisin and Walnut Cake, you will need the following ingredients: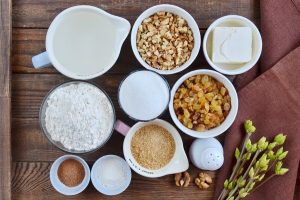 So, how to make Raisin and Walnut Cake?
Steps to make Raisin and Walnut Cake
Heat the oven and prepare a tin

3

Cook the raisins

12

Add the sugars and butter

10

Combine the dry ingredients

2

Mix the batter

5

Prepare the cake for baking

3

Bake the cake

45

Cool

15