6 x 5-6 oz

White fish fillets

about 1/2" thick, skinless and boneless

1 ½ tbsp

Shallots

finely chopped shallots , white part only

To serve:
Baked Fish with Lemon Cream Sauce
This Baked Fish with Lemon Cream Sauce is a firm favorite in my home. It is such a versatile dish to make – you can use any white fish fillet that you like. I tend to use fish like snapper, John Dory or whiting when I make this. It depends on what my fish shop has in stock.
To make this lemony baked fish couldn't be easier. I start by placing the fish in the bottom of a baking dish. I prepare the sauce by mixing butter, cream, garlic, mustard, lemon juice, salt and pepper in a microwave safe jug and I microwave it in two 30 second bursts, stirring between each burst. Then I scatter shallots over the fish and pour the sauce on top. Bake in the oven for ten minutes until the fish is cooked and there you have it!
To make Baked Fish with Lemon Cream Sauce, you will need the following ingredients: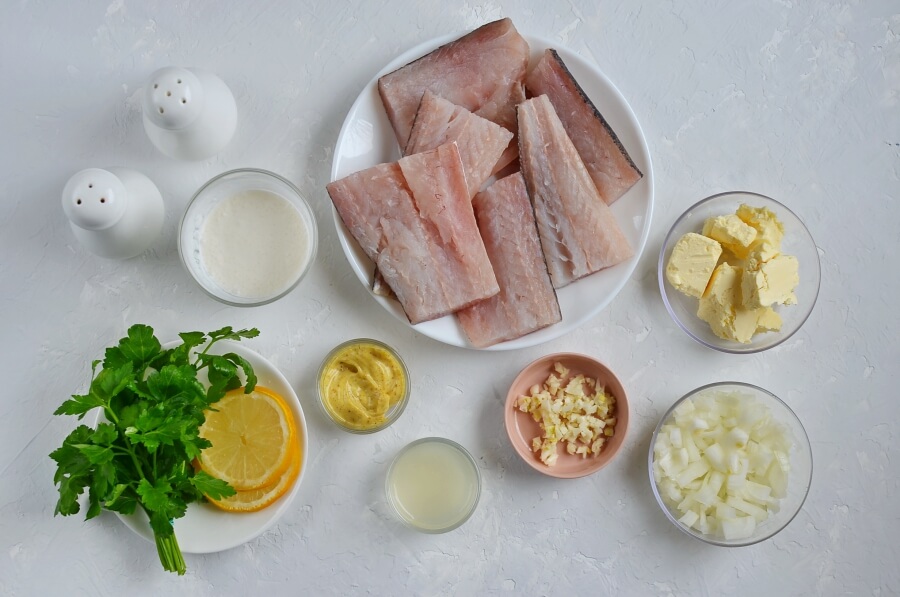 Steps to make Baked Fish with Lemon Cream Sauce
Heat oven

Preheat the oven to 390 °F.

Place fish in a baking dish

1

Make the sauce

5

Place 4 tablespoons of butter, ¼ cup of cream, 2 minced garlic cloves, one tablespoon of mustard and 1 ½ tablespoons of lemon juice in a microwave proof jug or bowl. Season with salt and pepper to taste. Cook in the microwave in 2 x 30 second bursts. Stir the sauce well in between each burst, until it is melted and smooth.

Sprinkle shallots over the fish

1

Bake

12

Serve