For the Fish:

1 cup

Potato chips

crushed

2 pounds

White fish fillets

such as cod or haddock

For the Aioli:
Potato Chip-Crusted Fish Fillets
I think the name Potato Chip-Crusted Fish Fillets with Lemon Garlic Aioli says it all and if the name is not a mouthful then the first bite sure will be! I cannot rave more about this fish and my whole family will agree with me! Homemade crust from crushed potato chips, garlic powder, paprika and bread crumbs, coat the fish perfectly with a delicious lemon and garlic, creamy mayonnaise aioli seasoned with crushed black pepper. I think I'm making this for dinner tonight! 
To make Potato Chip-Crusted Fish Fillets with Lemon Garlic Aioli, you will need the following ingredients: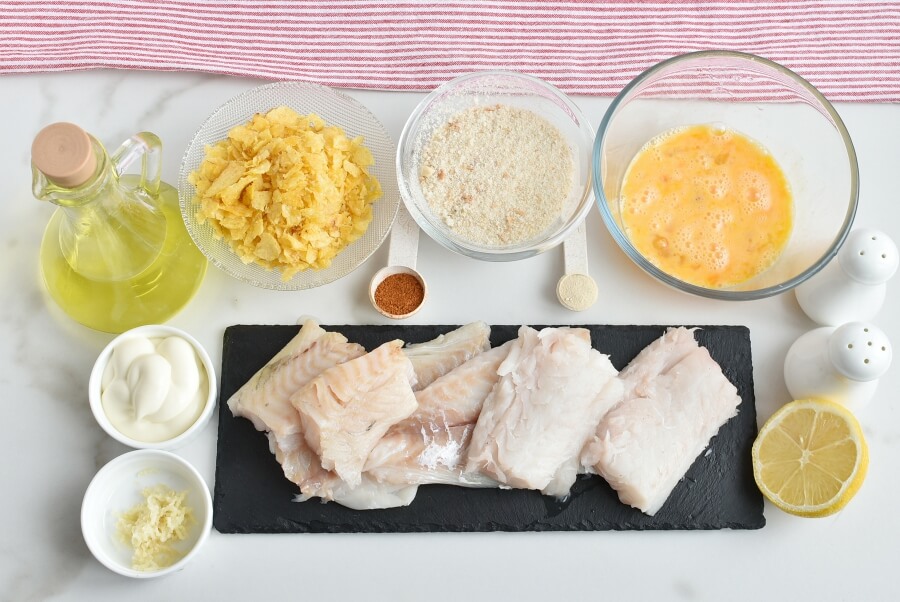 Steps to make Potato Chip-Crusted Fish Fillets
Preheat oven

5

Dry fish

2

Prepare aioli

2

Chill aioli

25

Prepare bread crumb mix

2

Prepare egg

1

Dip fillets in egg

2

Dip fillets in bread crumb mix

3

Bake

10

Serve