For the dough

4 ½ tsp (2 ¼ oz packets)

Active dry yeast

1 tbsp

Orange zest

+ 1 tsp

1 ¼ tsp

Sea salt

fine grain

3 ½ cups

Whole wheat flour

2 ½ cups

Spelt flour

light

1-2 tbsp

Turbinado sugar

raw

1

Eggs

+ 2 tsp water, lightly beaten for egg wash, optional

for the filling

6 tbsp

Butter

unsalted , softened
Cinnamon Beet Rolls
These Cinnamon Beet Rolls are a delicious take on the traditional Scandavian cinnamon roll that we have all grown to love. Who can resist the smell of these buns in a warm kitchen on a cold day? In this recipe I combine cinnamon, yeasty dough and a brown sugar filling with beets to create a pink version of the scandi classic!
 I start by making the dough from beets, egg, buttermilk, sugar, butter, zest, salt and flour. While the dough is rising, I make the filling from muscovado sugar, cinnamon, and ginger. To assemble these rolls, I spread butter on rolled out rectangles of dough and sprinkle the filling on top. Roll 'em up and bake 'em for the sweetest smelling kitchen between here and Copenhagen.
To make Cinnamon Beet Rolls, you will need the following ingredien: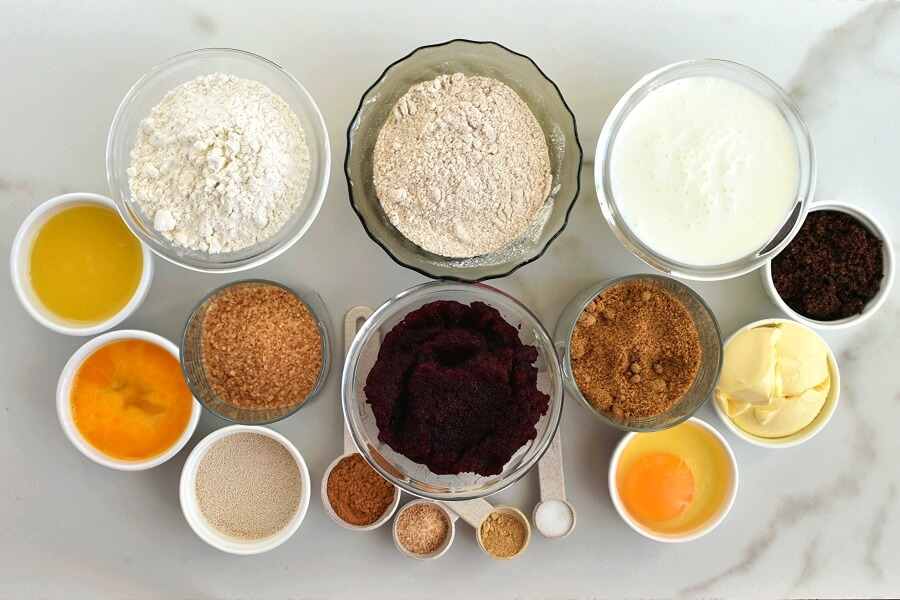 So, how to make Cinnamon Beet Rolls?
Steps to make Cinnamon Beet Rolls
Dissolve yeast

3

Combine beets, egg, buttermilk, sugar, butter, zest, and salt

2

Add flour

5

Allow the dough to rise

2h

Heat the oven and line two baking sheets

5

Prepare the filling

2

Roll out the dough

3

Add the filling

2

Assemble the rolls

3

Roll the dough lengthwise into tight rolls. Pinch the edges shut, and place the rolls seam side down. Cut each log into 12 pieces, alternating cuts on the diagonal. Press down firmly on top with your index finger to shape.

Bake

47

Brush with syrup

3

Serve