For the pastry crust:

For the filling:

2 lb

Pears

firm bosc (about 4-5 pears), peeled, cored and halved lengthwise

2 tsp

Ginger

peeled, grated

Light grating of fresh

Nutmeg

or a dash of ground nutmeg
Pear Tarte Tatin
Pear Tarte Tatin is a take on the classic French tarte tatin dessert. Tarte tatin gets its name from the Hotel Tatin in France where it was first made. It is an upside-down fruit tart and the fruit is beautifully caramelized with sugar and butter. A pastry pie crust is the placed on top and the tart is baked in the oven. Once the tarte tatin comes out of the oven, it is inverted and served fruit facing up on a pie plate.
To make this tarte tatin, start by creating a caramel base at the bottom of a saucepan. Add sliced pears and top with a pastry crust. The result is sticky caramelized pears on a crumbly pastry base.
To make Pear Tarte Tatin, you will need the following ingredients: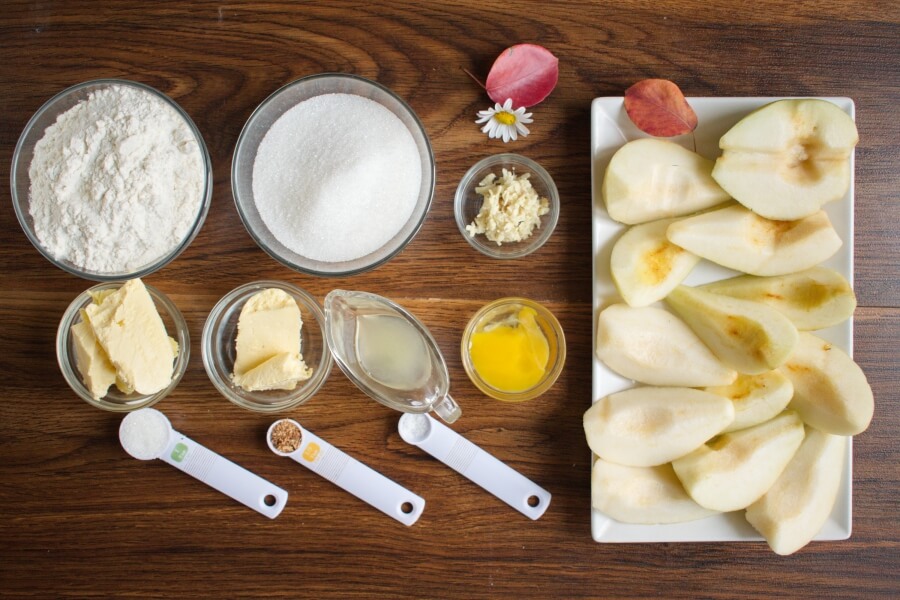 So, how to make Pear Tarte Tatin?
Steps to make Pear Tarte Tatin
Make the pastry

5

Refrigerate

1h

Prep the pears

5

Make the caramel

5

Add the pears to the caramel

2

Cook the pears

20

Preheat the oven

Preheat the oven to 375 °F.

Roll out the dough and place it on top of the pears

2

Reduce the heat and bake

40

Invert

2

Serve