¼ tsp

Salt

plus more to taste if needed
Roasted Tomato Soup
This sheet-pan Roasted Tomato Soup recipe combines extremely rich flavor, sweet acidity from the tomatoes, and aromatics from the roasted red onion, garlic, and basil. The tomatoes are the key here. The riper and more flavorful your tomatoes are, the better the soup will be. Serve with toasted chunks of bread for an easy and delicious starter the whole family will enjoy.
This delicious soup recipe can be made in under an hour and with only 5 minutes of hands-on time since it is mostly about roasting in the oven. The recipe has only 7 ingredients and is compliant with many diets, including vegetarian, vegan, and gluten-free.
To make this tomato soup from scratch, start out by roasting together the tomatoes, red onion, garlic, and basil until the tomatoes have charred a little and released their juices. Once the veggies are roasted, remove them from the oven and let cool for a few minutes in the pan. Transfer the tomatoes and onion to a blender. Carefully squeeze the bottom of the garlic bulb to release the cloves and add them to the blender. Strip a few roasted leaves of basil off the stem and add them to the blender too. Purée the ingredients until almost smooth. Thin out the soup with the juices from the pan to desired consistency. Taste and adjust the seasoning. Depending on the acidity of your tomatoes, you may want to add a pinch of sugar to balance the flavors.
To make the Roasted Tomato Soup, you will need the following ingredients: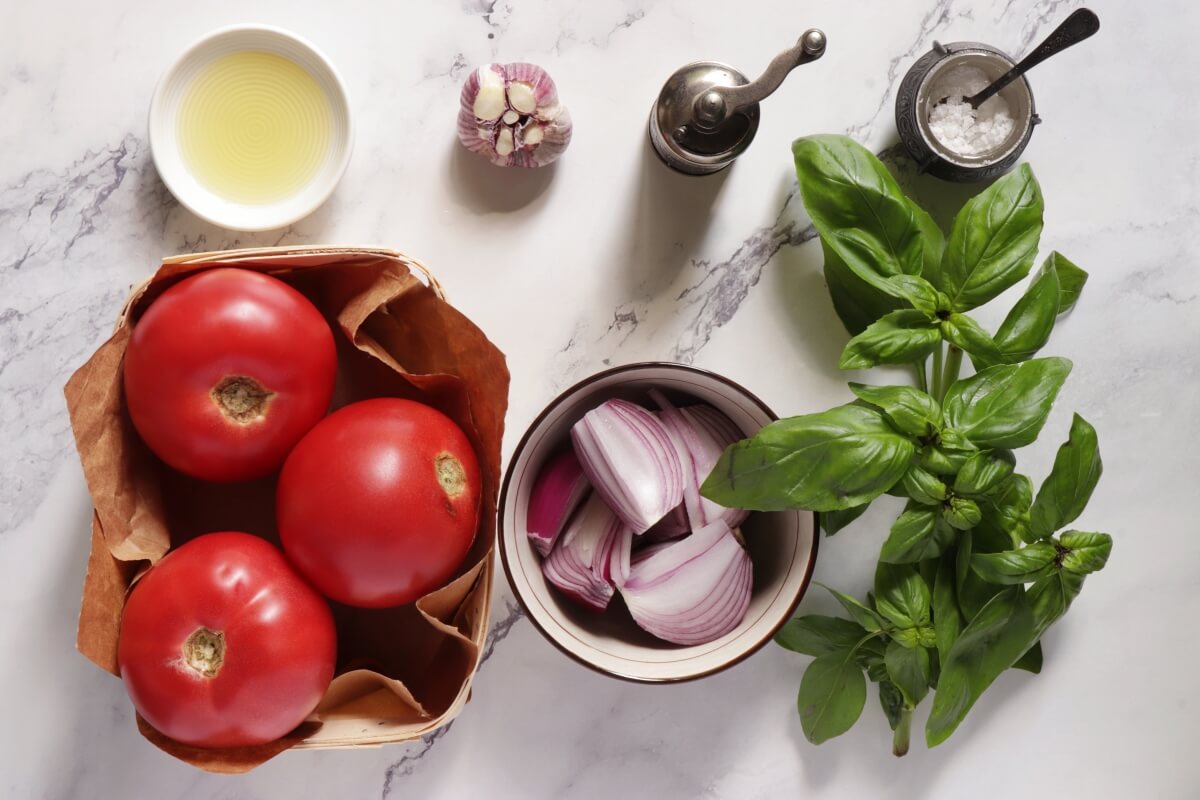 Steps to make Roasted Tomato Soup
Preheat oven

Preheat the oven to 400 °F.

Prepare tomatoes, onion, and garlic for roasting

2

Roast

40

Transfer veggies to blender

1

Blend

1

Serve