1/2 cup

All-purpose flour

1/4 tsp

Black pepper

ground

3 pounds

Beef

stew meat, cut into 1-inch cubes

3 (14.5 ounce) cans

Tomatoes

chopped

1 (16 ounce) can

Tomato sauce

3 tbsp

Worcestershire sauce

5 tsp

Garlic

minced, or to taste

3 cups 3/4-inch

Carrots

chunks

3 cups 3/4-inch

Potatoes

chunks

2 cups

Mushrooms

fresh, quartered
Alita's Tomato Beef Stew
This Alita's Tomato Beef Stew is a great stew to make for a crowd. As fall turns to winter each year, my neighborhood has a street feast where we meet up for the final time before the winter weather sets in.
I always make a large pot of this stew and it goes down really well with the neighbors! Don't let the long list of ingredients put you off, it is actually a super easy recipe to prepare. I think tomato base of this stew makes a nice change from traditional beef stew.
To prepare this stew, I simply brown the meat first. Then I add the most of the remaining ingredients, bring it to a boil and simmer. Towards the end, I add the carrots, potatoes and mushrooms in stages. By the end of the cooking time, I have a rich tomatoey beef stew which will feed the masses!
To make Alita's Tomato Beef Stew, you will need the following ingredients: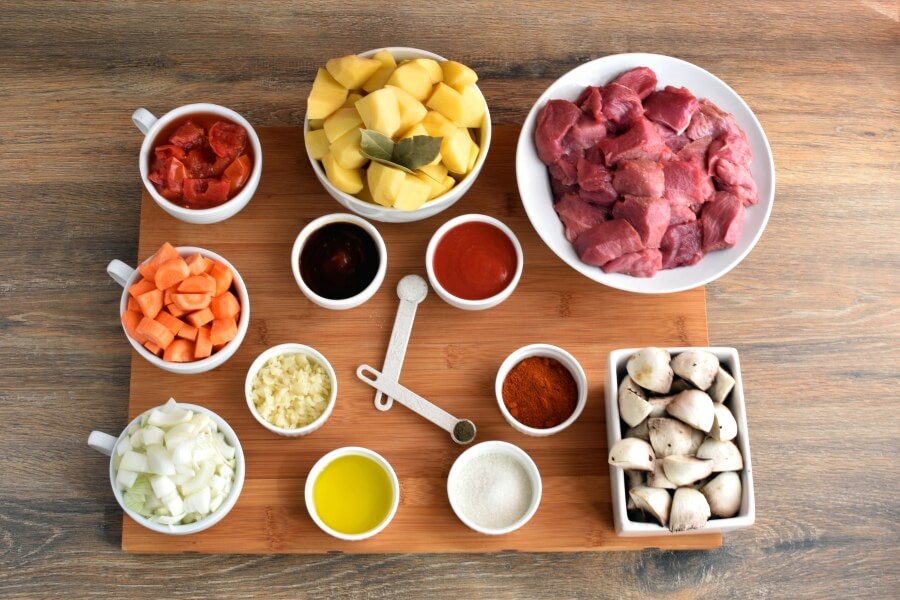 So, how do you make Alita's Tomato Beef Stew?
Steps to make Alita's Tomato Beef Stew
Coat the beef

3

Heat the oil

2

Brown the beef

8

Make the sauce

2

Simmer

1h

Add carrots

30

Add potatoes

30

Stir in mushrooms

15

Serve